Hello! It's me, Trip guide.
Today, I will visit a casual restaurant in Biei town DAIMARU.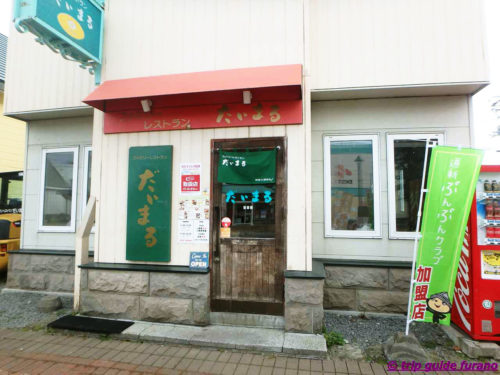 It's very popular from both tourists and locals.


I could get a table easily because I came a bit before lunch time. Customers are keep coming in after me.
And the menu is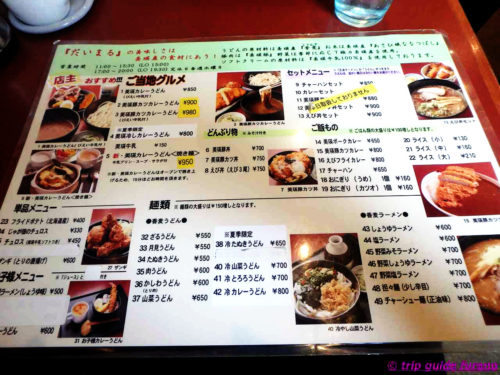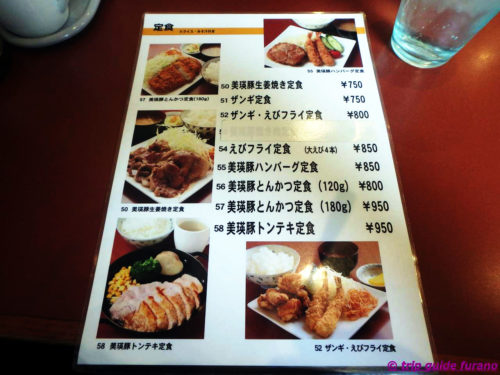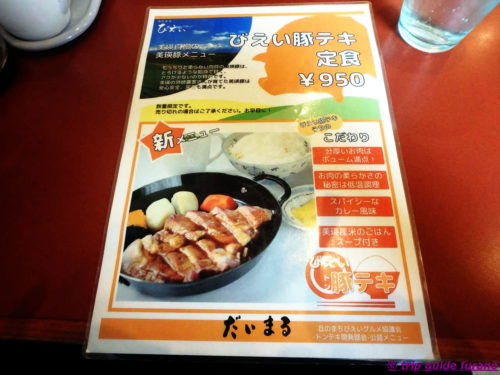 Biei's famous dish is Biei Curry Udon
DAIMARU uses local wheat "KOU-MUGI" for Udon noodle.
And also uses local rice "Asahi-Musume-Nanatsuboshi"
And the porkmeat is Biei-pork, of course it's local one.
I ordered Biei Curry Udon and Zangi-Teishoku
"Zangi" is one of the popular Hokkaido dish very SIMILAR to "Kara-age' which means deep fried chickens in Japanese style.
I actually believed that Zangi =Kara-age….but technically it's not.
Wait about 20minutes….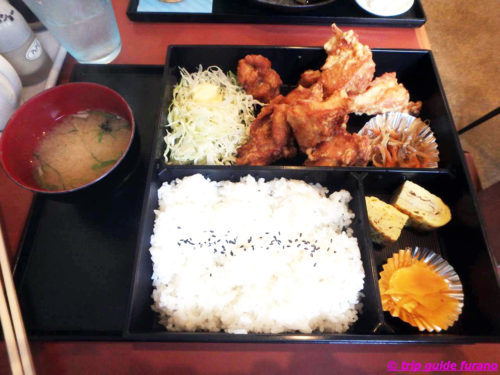 Zangi Teishoku 750yen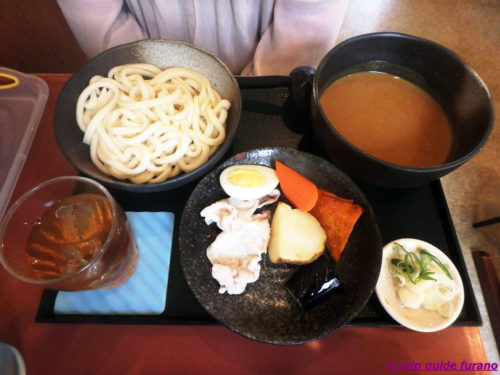 Biei Curry Udon 950yen
The set meal include a glass of local milk but I asked mugi-cha (wheat tea) instead.
Zangi Teishoku ; Zangi is very juicy and volumy. Very tasty.
Biei Curry Udon also very Yummy!!
The price is very reasonable with big volume.
I'm well convinced that why DAIMARU is so popular!!
自宅で美瑛を味わおう!
Busines hour is
11:00-15:30 (Last order 15:00)
17:00-20:00 (Last order 19:30)
Wednesday closed
1 Naka-machi, Biei-chou, Kamikawa-gun, Hokkaido
(10min from Biei station)
Tel: 0166-92-3114
I highly recommend DAIMARU if you are around.
I've promised to myself that I will order "Biei-TonTeki- Teishoku (Biei Pork stake set meal" at next visit!!
  All the information as of Oct 2017