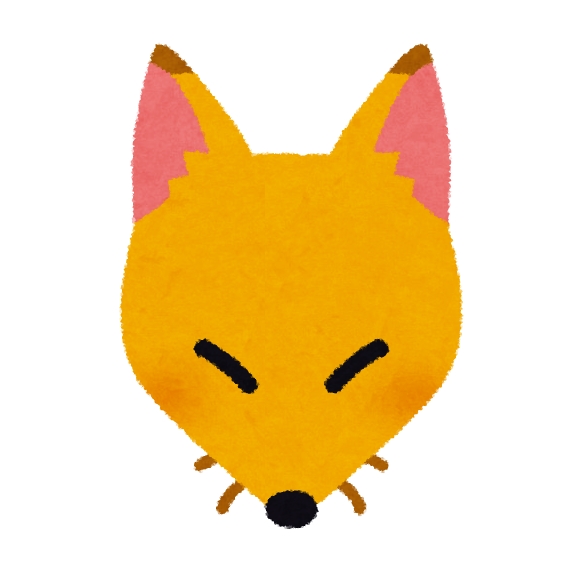 Furano Guide
Today, let me introduce you to more sight-seeing spots in the Furano-Biei Area
Farm Tomita is definitely the place you want to go in July!
I went to Farm Tomita at the peak of the lavender blooming season. This farm is very famous both inside and outside Japan!
How do we get to Farm Tomita?
From Asahikawa, take Route 237 following signs for Furano, specifically looking for Naka-Furano. You should arrive in Naka-Furano in a little over 1 Hour.
From Furano, take Route 237 following signs for Asahikawa. You should arrive in the next town, Naka-Furano, in a little less than 20 minutes.
Besides rental car, you can also take the bus or local train to Naka-Furano. On sunny days in the main summer season, I would definitely suggest the slow, sight-seeing train, Norokko-Gou and get off at the Lavender Farm stop (one stop AFTER the Naka-Furano stop from Furano).
Norokko-Gou Train Information Here
Farm Tomita`s Parking Lot
There are many parking areas in and around Farm Tomita, but please be aware that the red areas outlined in the image below can be very full and busy in July.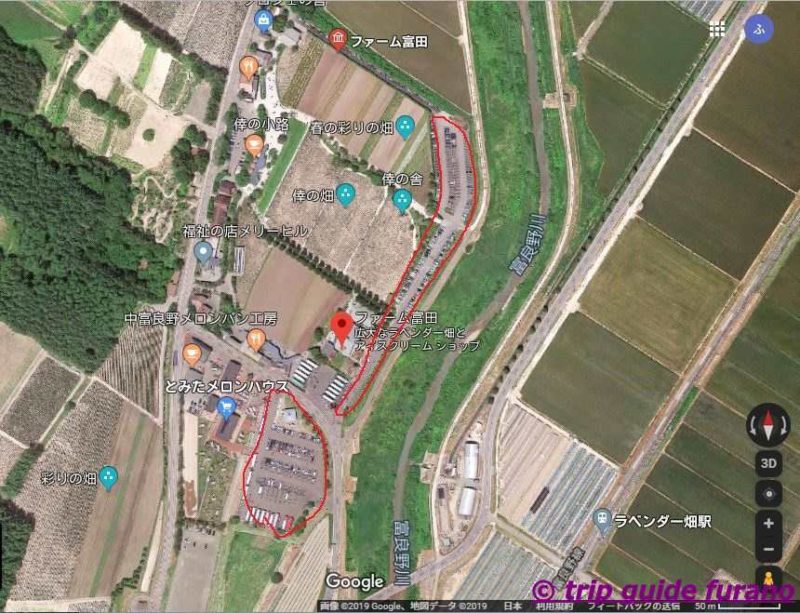 The parking lot outlined below in red is specifically for Tomita Melon House.
If the parking lots outlined in the image ABOVE are full, the parking lot outlined BELOW are very popular to park in.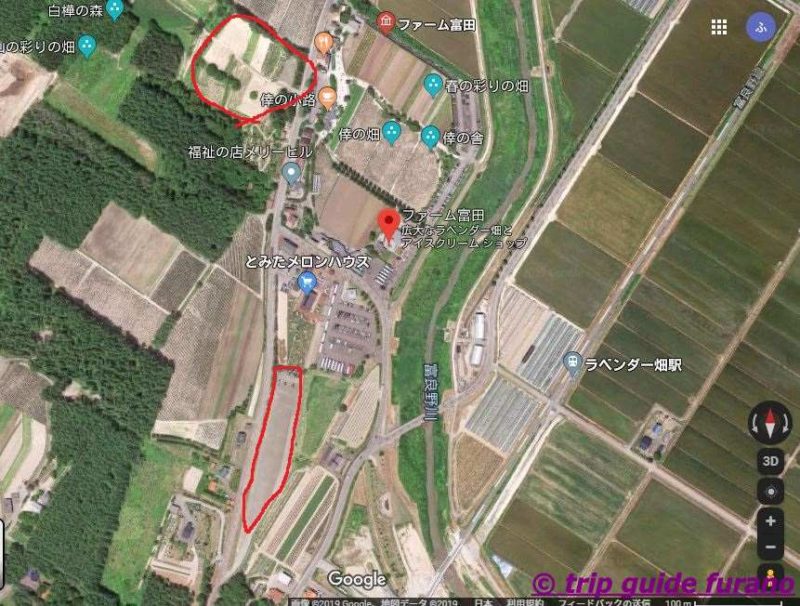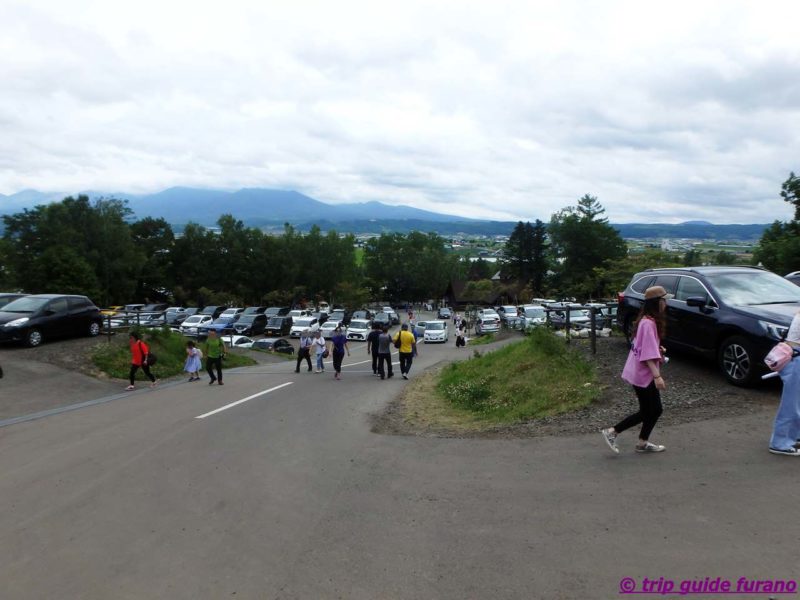 It might be a little busy, but if you wait, generally a spot will open quickly.
Farm Tomita in July
Here is a map of Farm Tomita.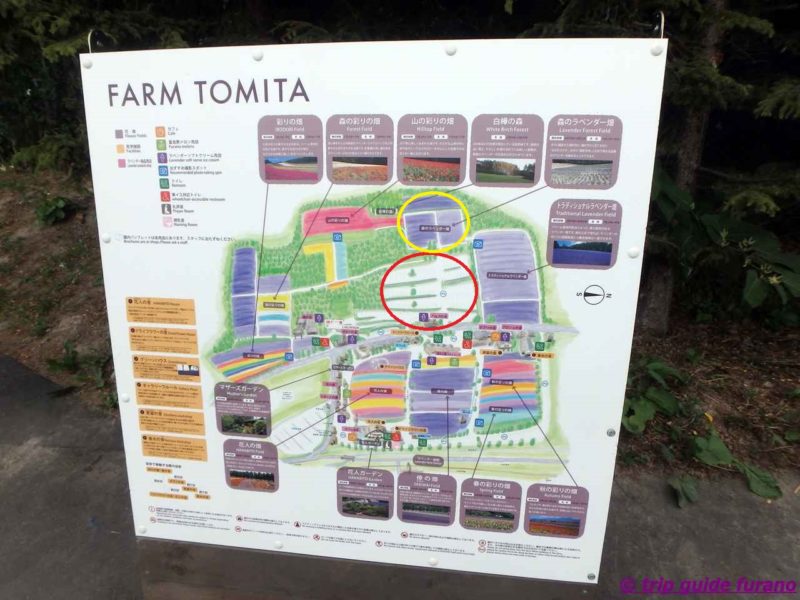 The area circled in red is where I parked.
The first place I went to go see was "Lavender Forest Field" which is circled in yellow above.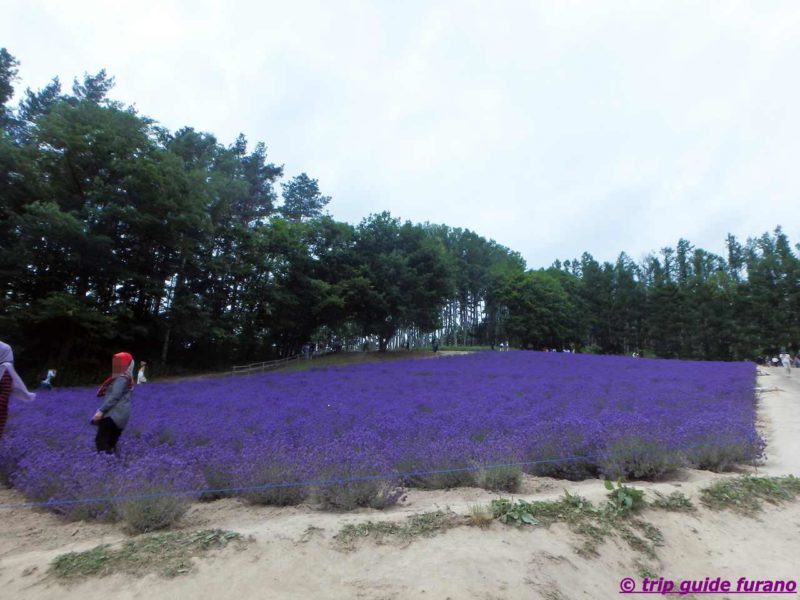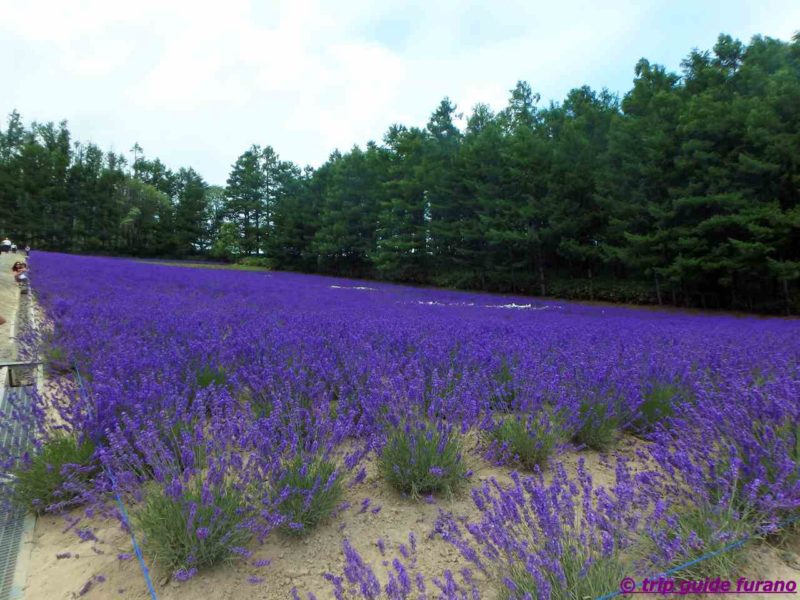 From there, I went to the "Traditional Lavender Field"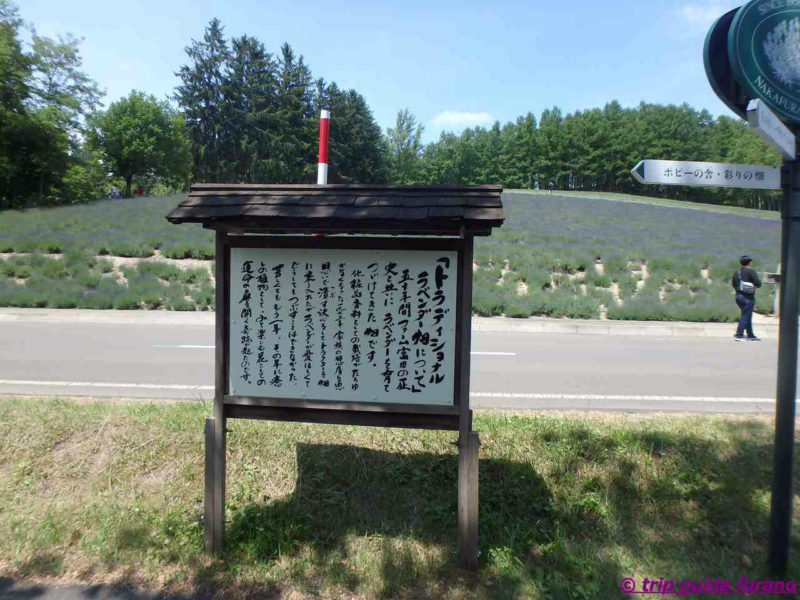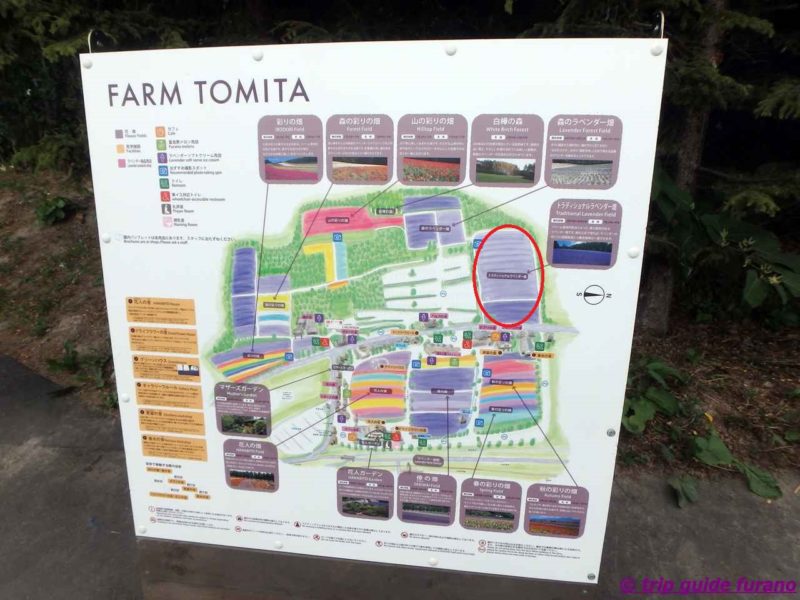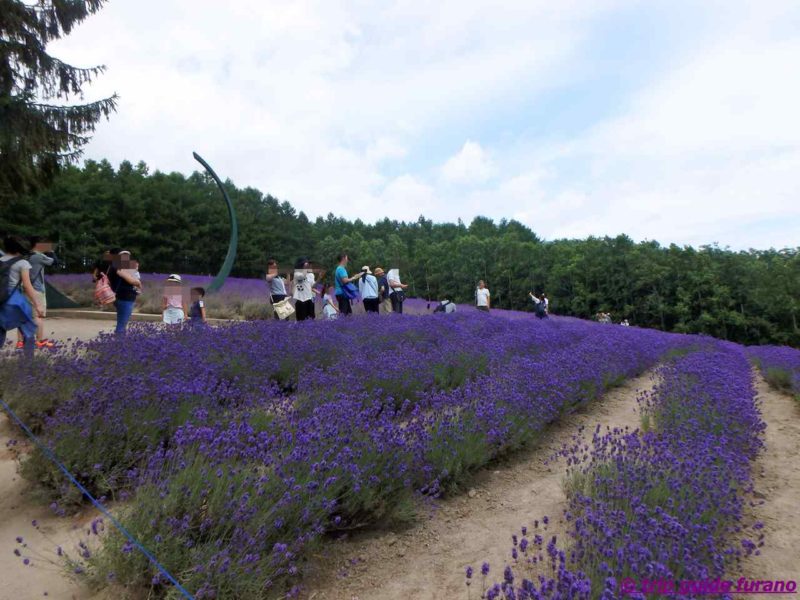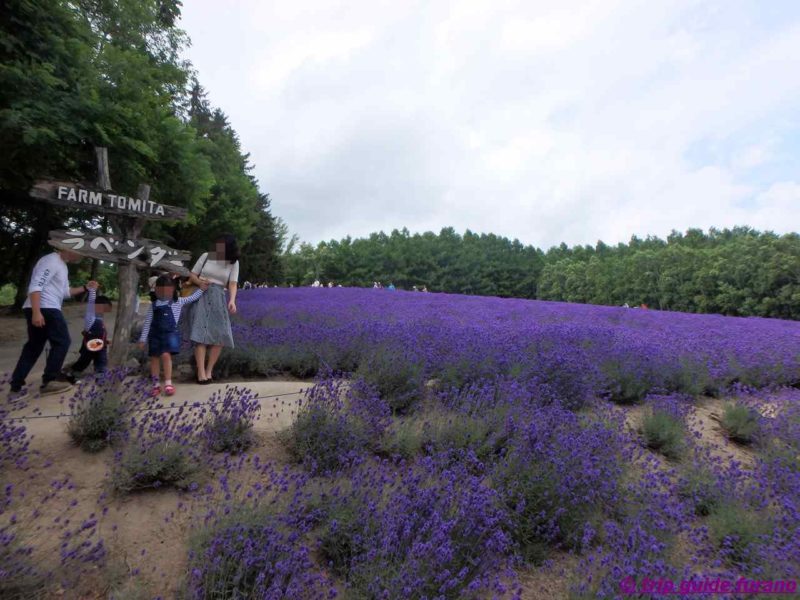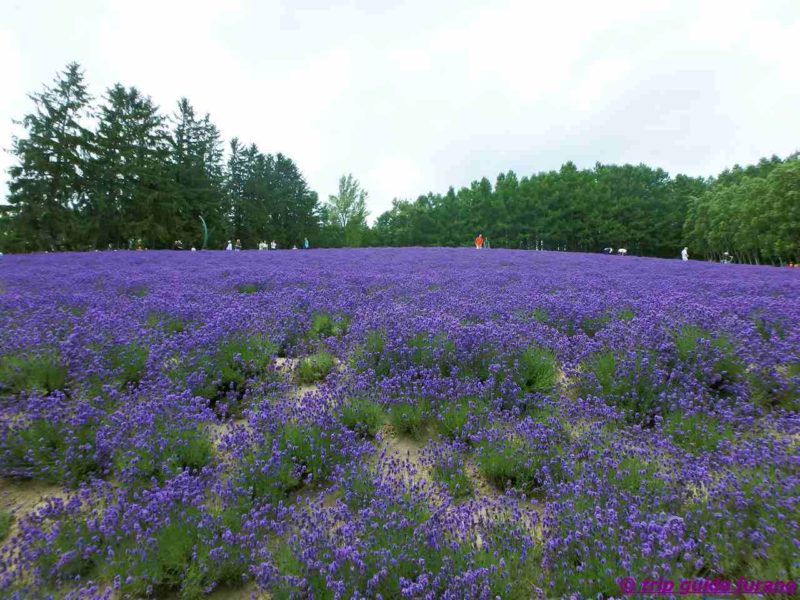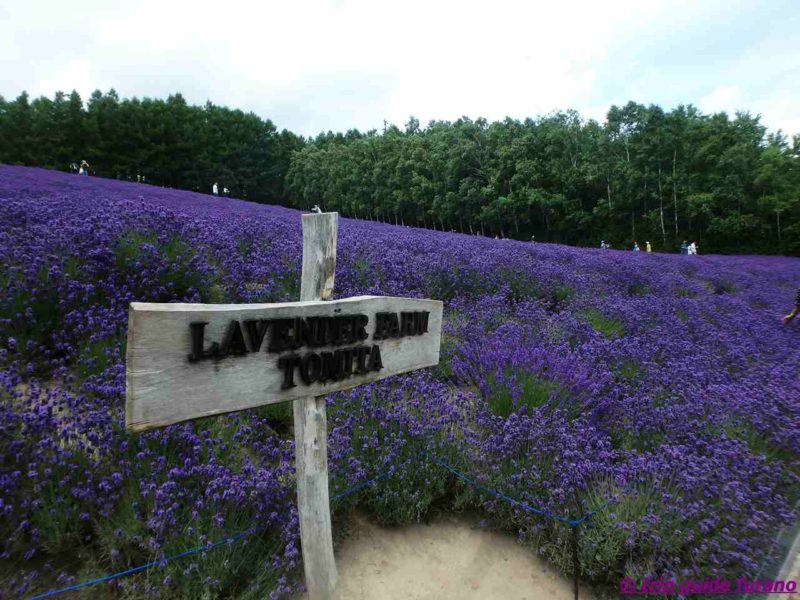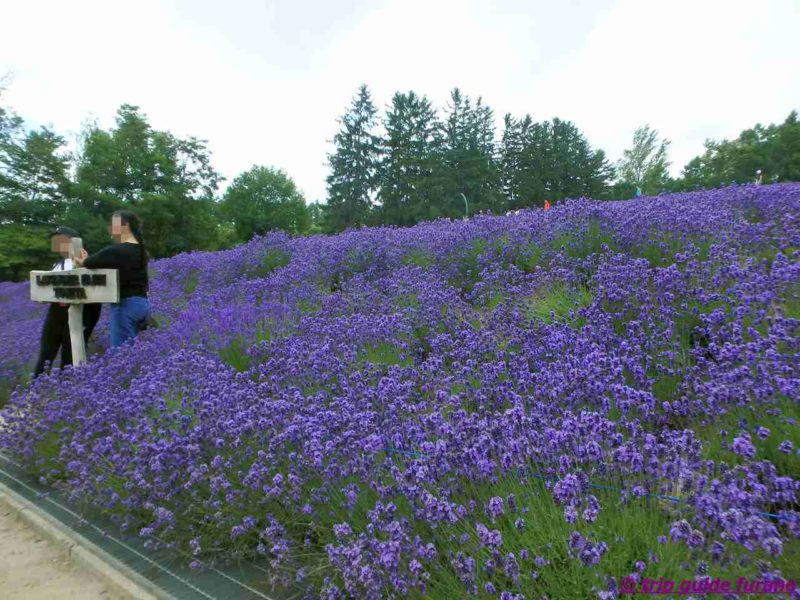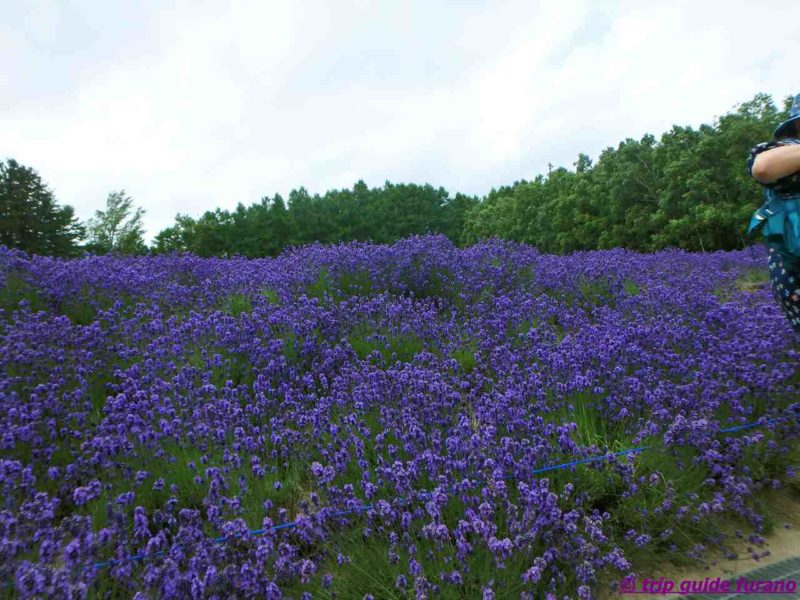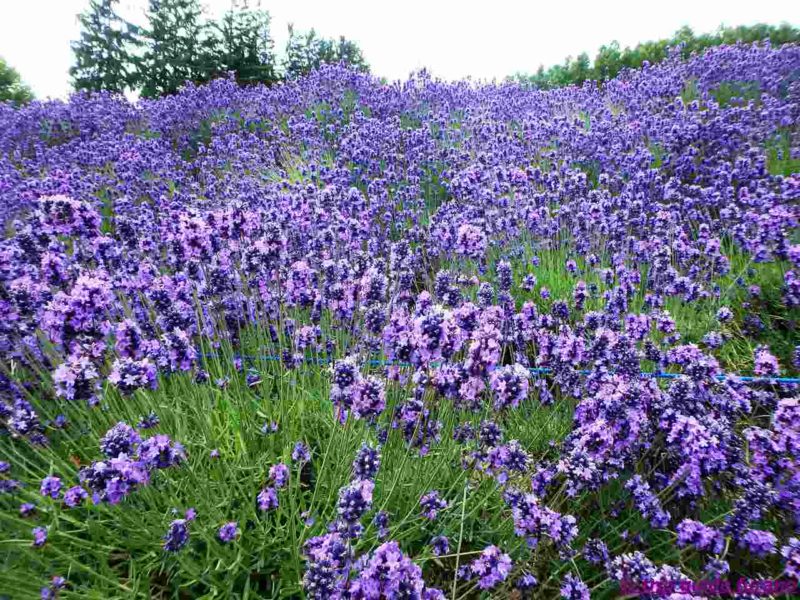 Here is the view from the Potpourri House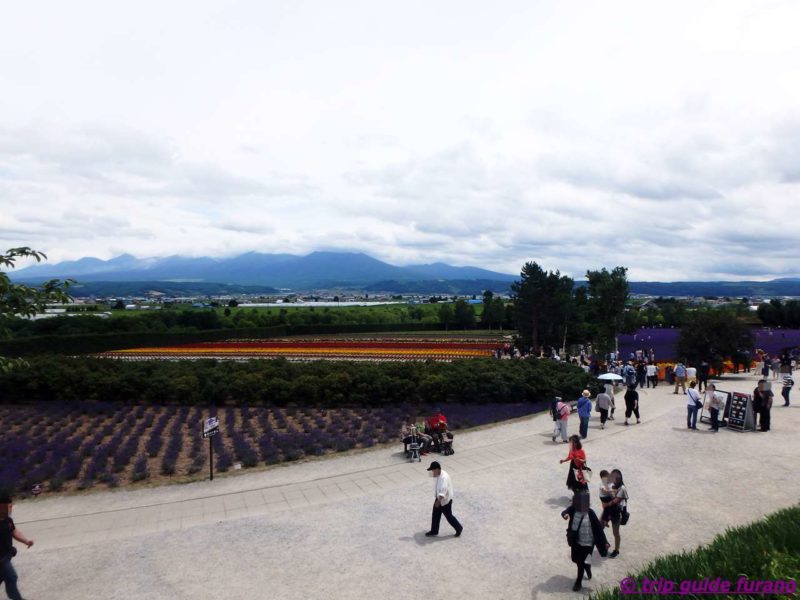 If it`s a clear day, you can see the Mt. Tokachidake Range, and even the steam coming out of the top of the volcano!
Next, I went to the Autumn Field, the Spring Field, and the Sakiwai Field, outlined in red below.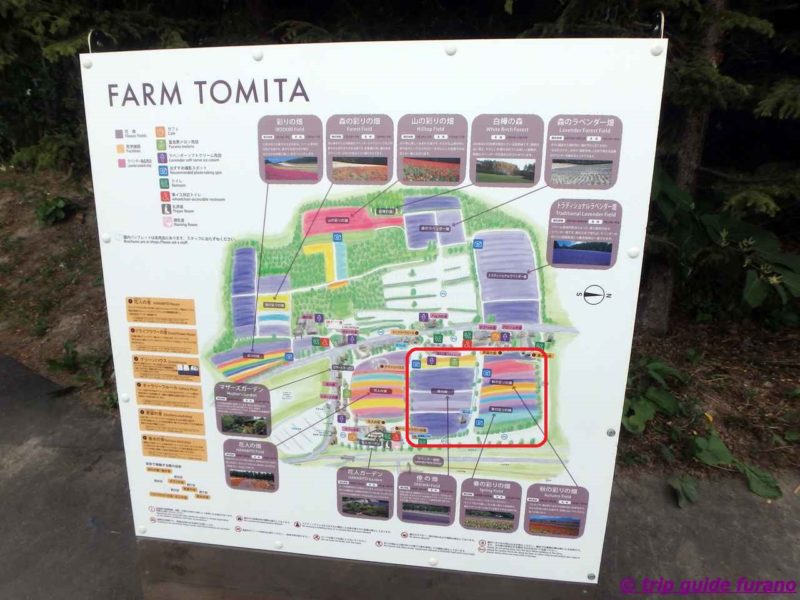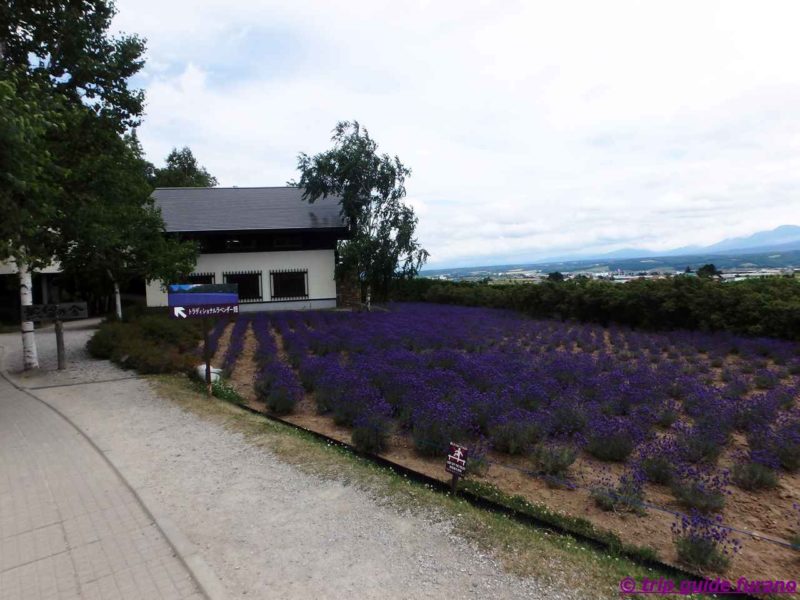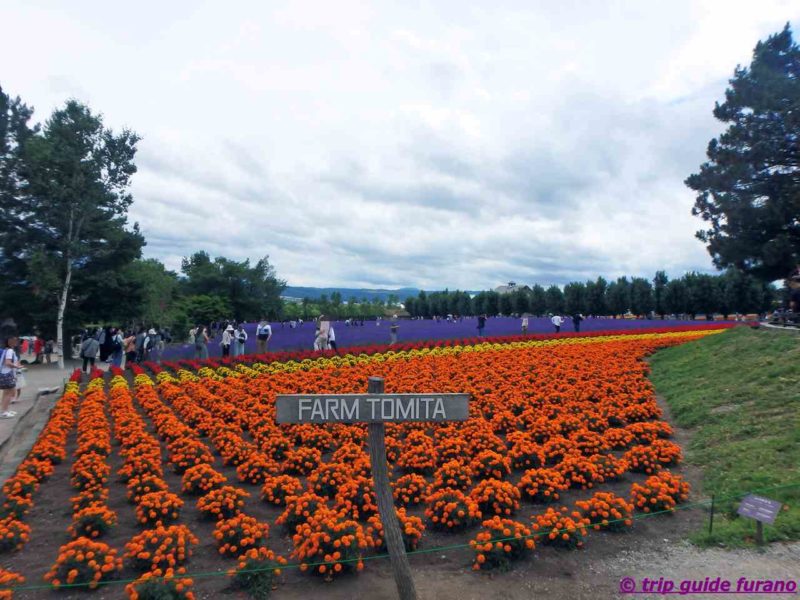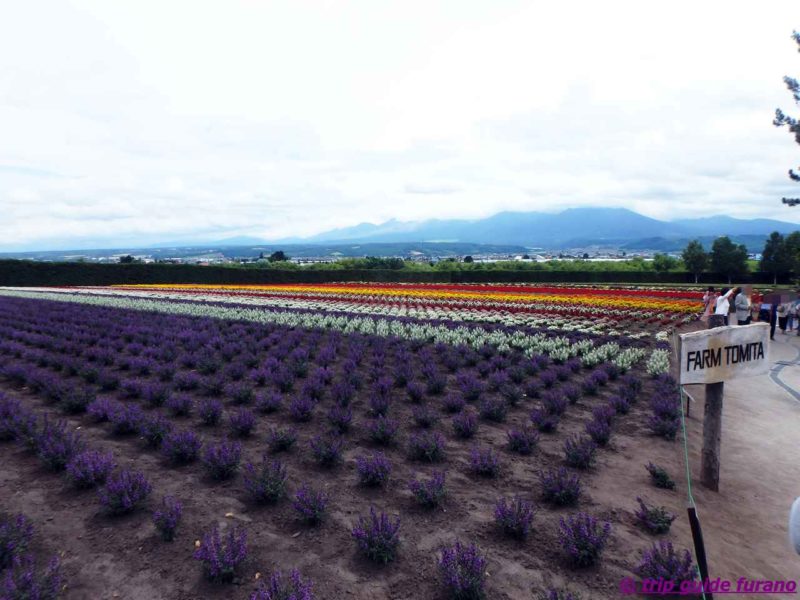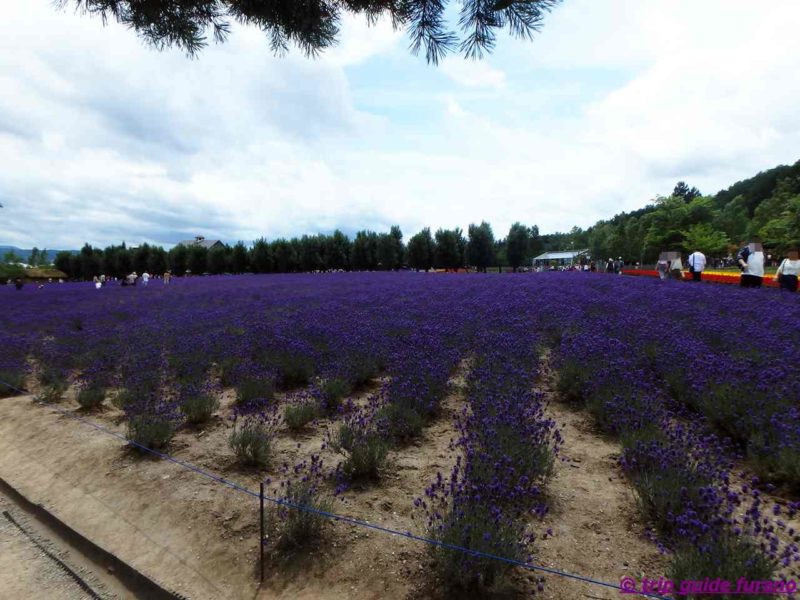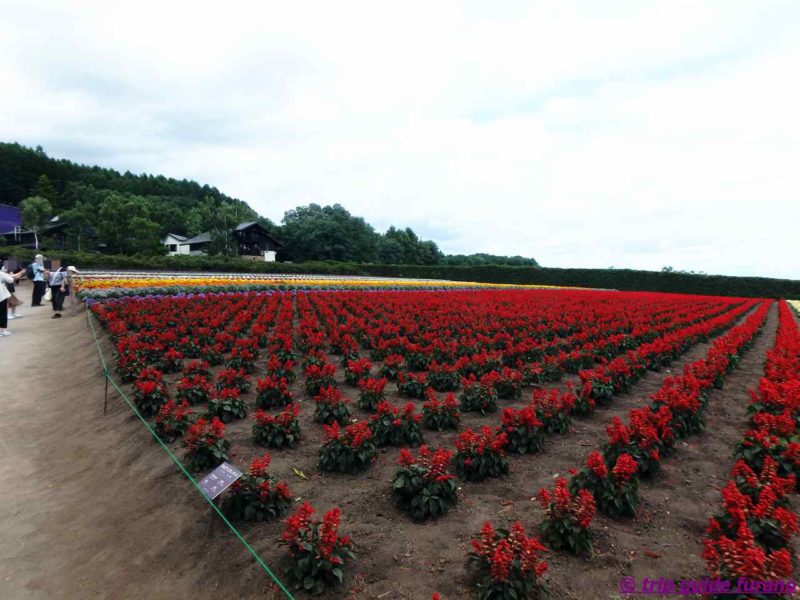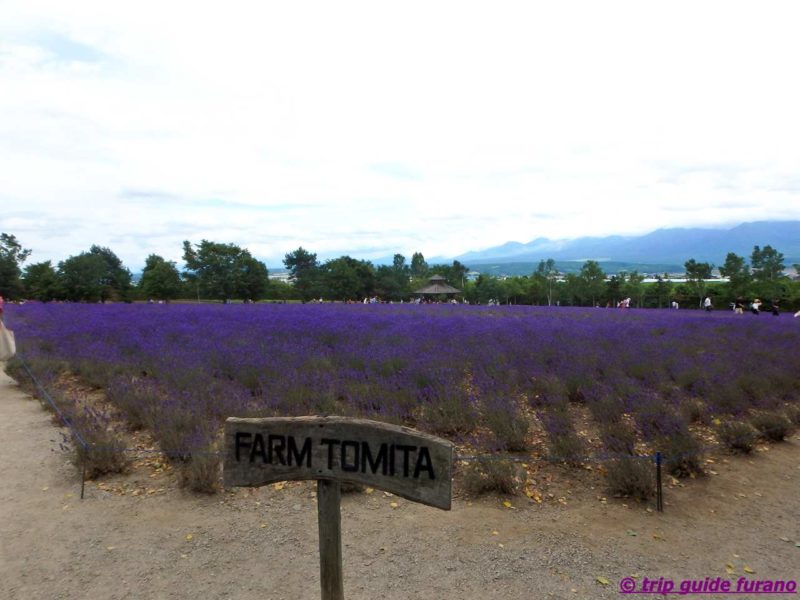 Then I went to check out Hanabito House and Dried Flower House. On the way, I looked at Hanabito Field. These three locations are outlined once again below in red.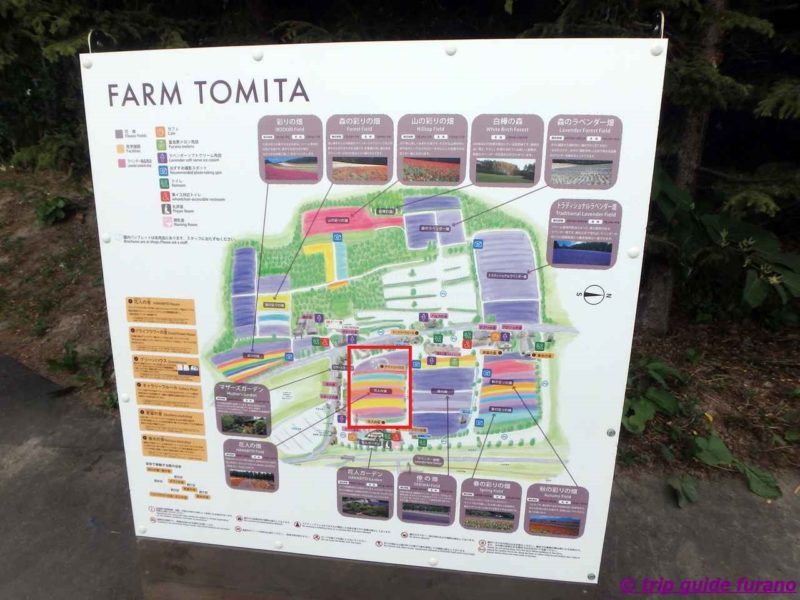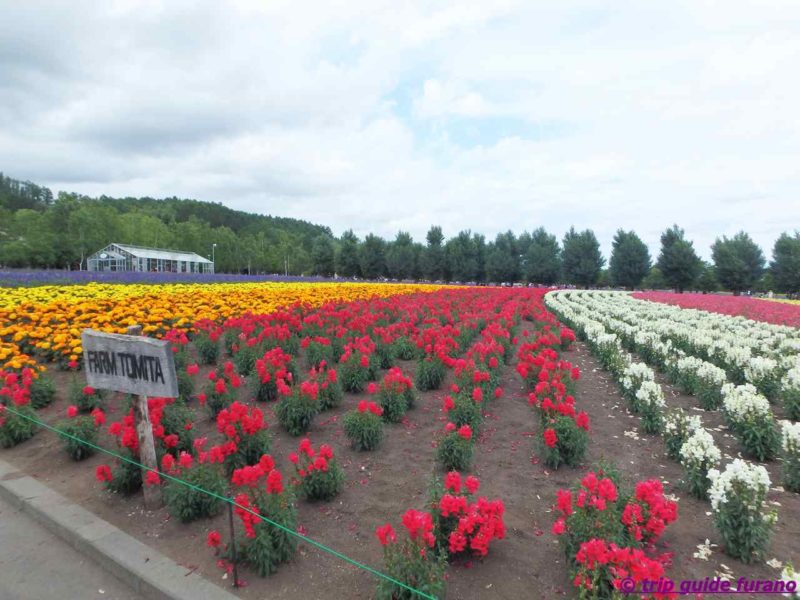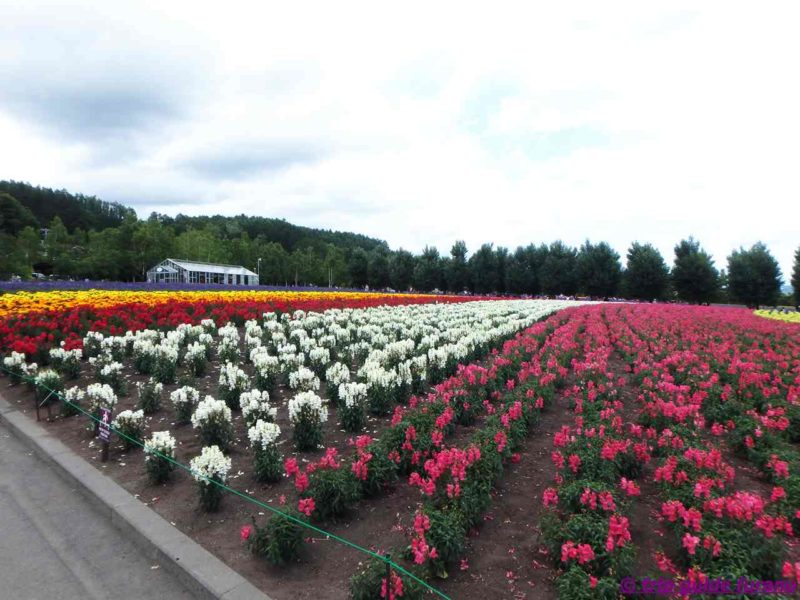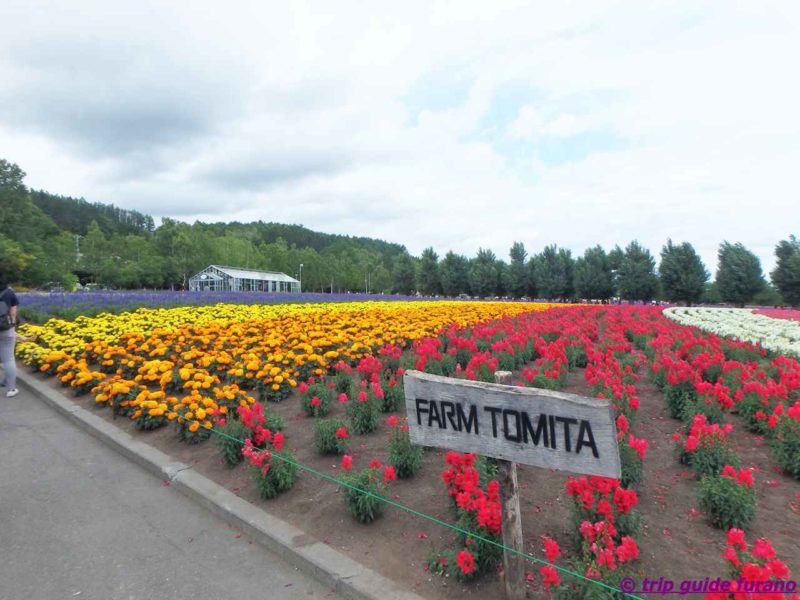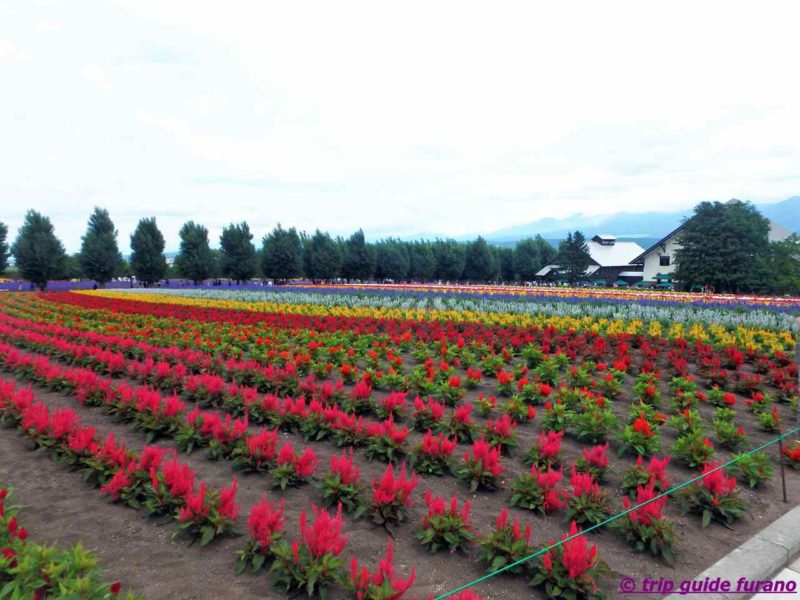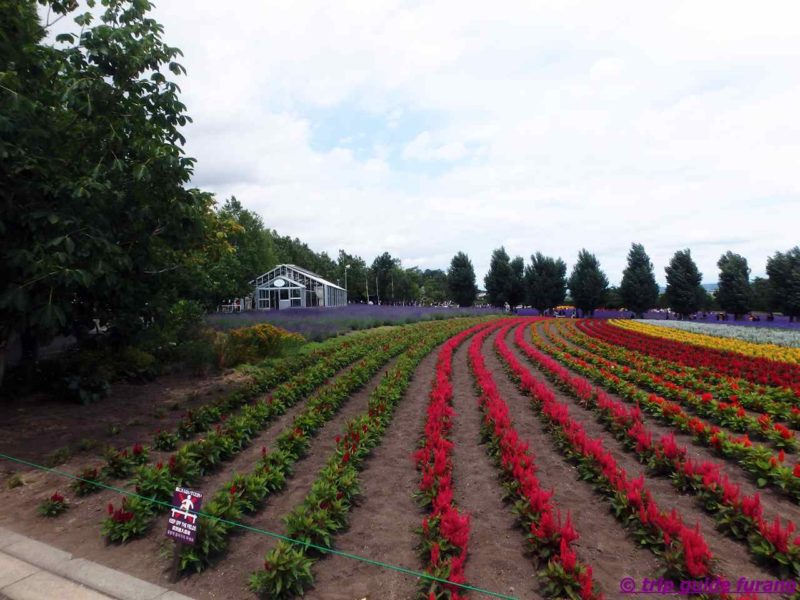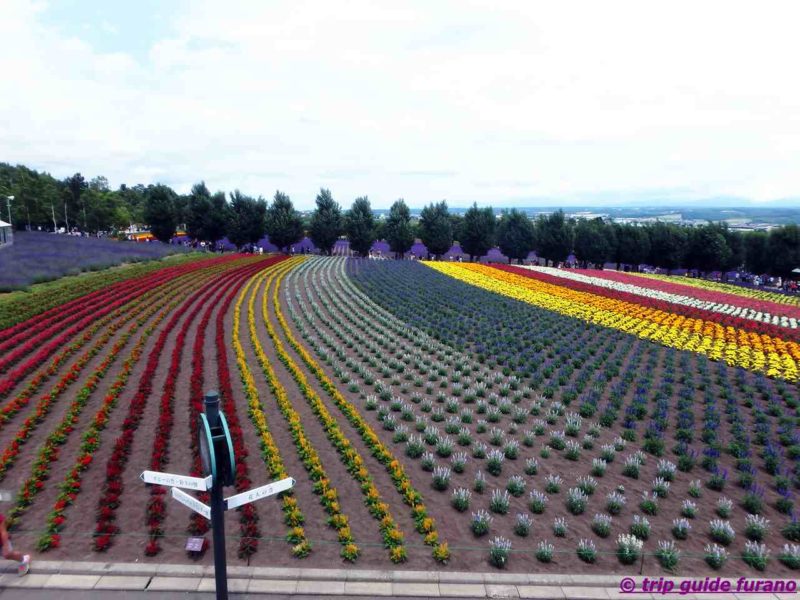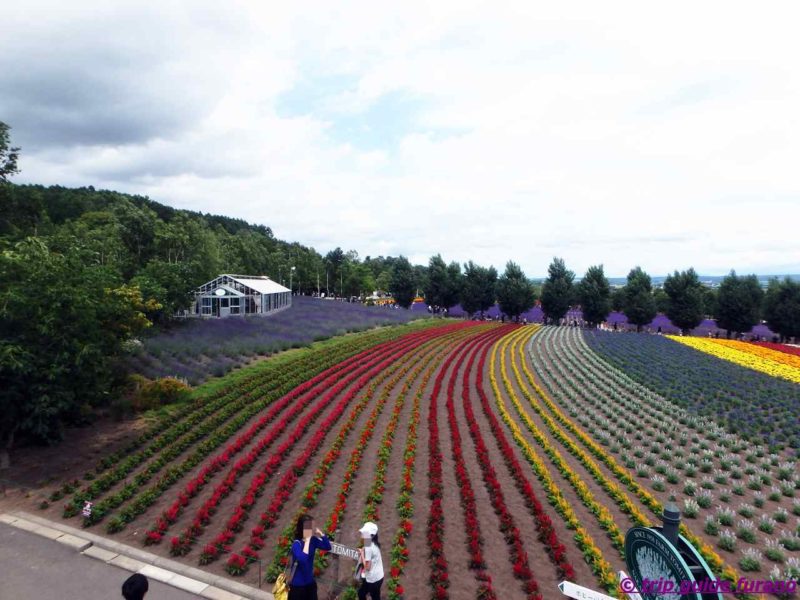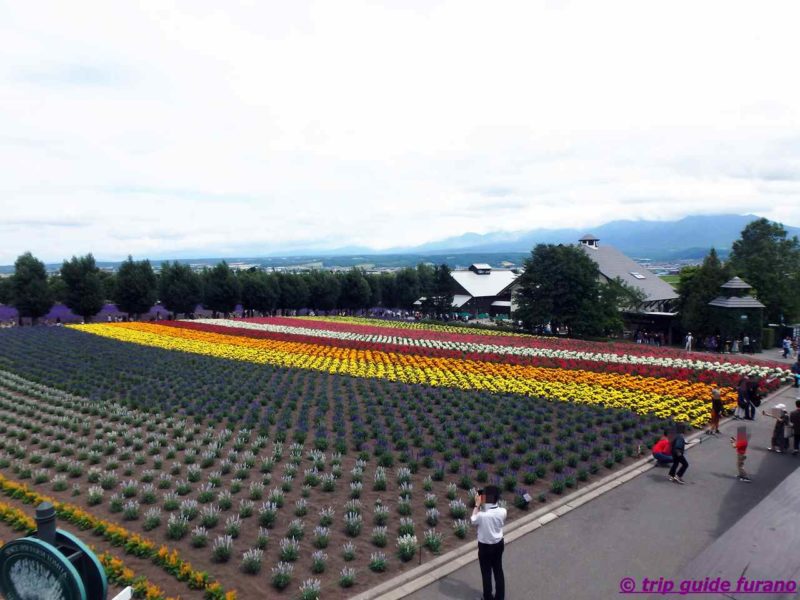 Last but not least, I went to see the flowers in the Irodori Field and Forest Field, up the hill and across the road.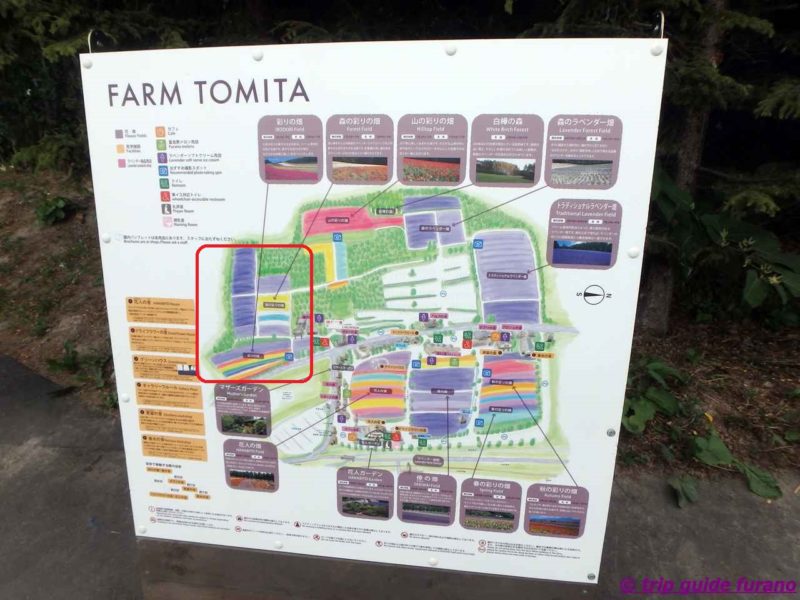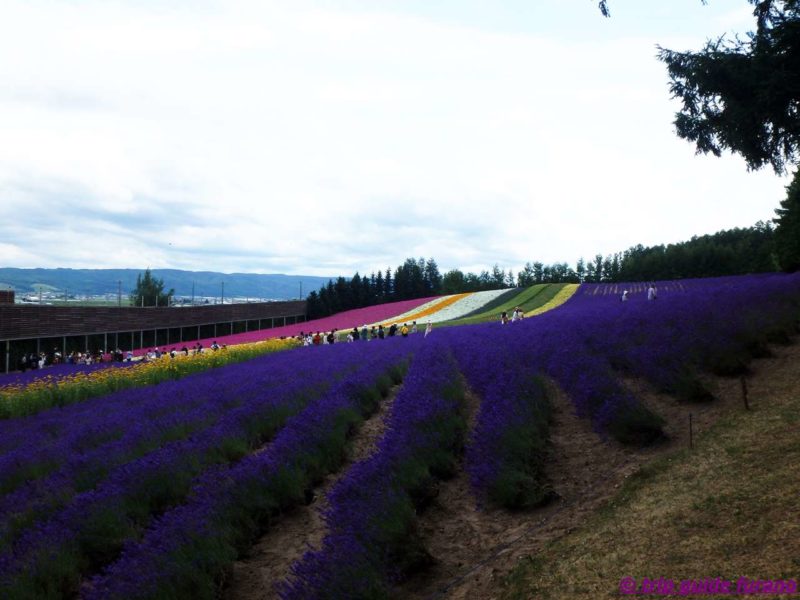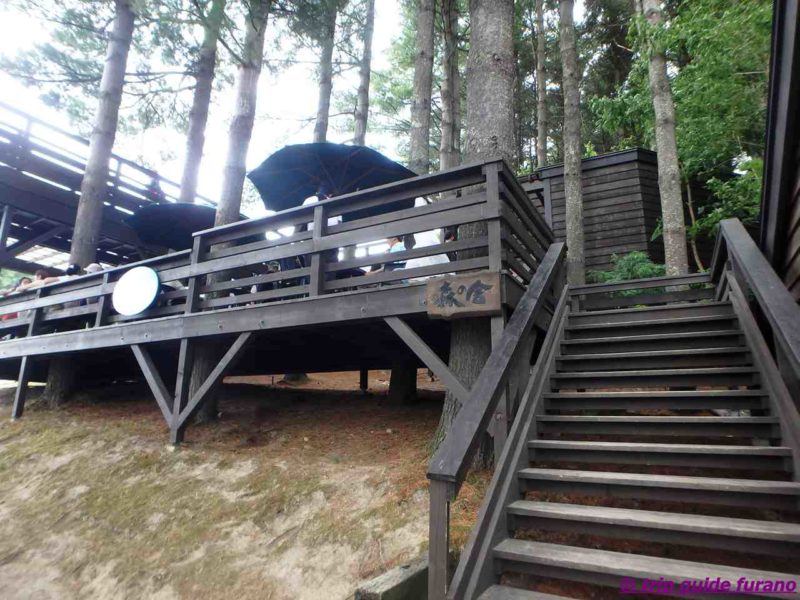 Let`s go check out the view from the Observation Deck in the forest!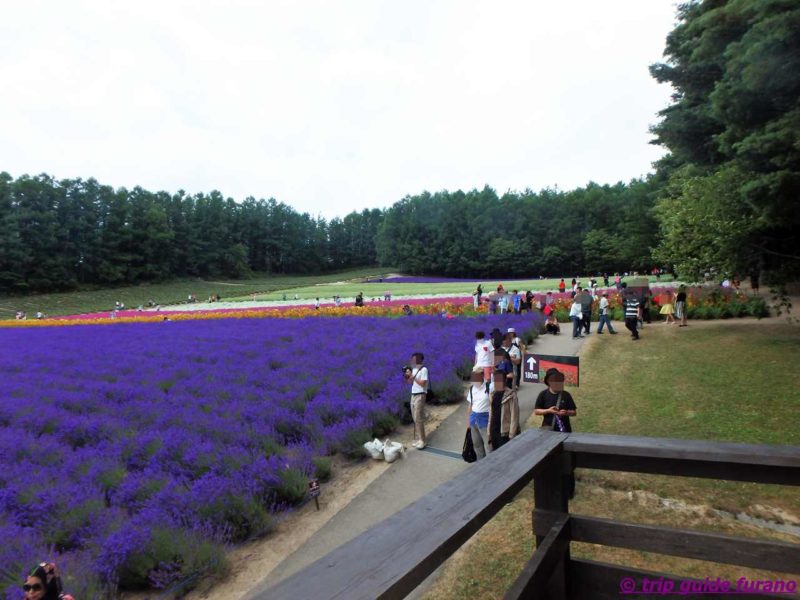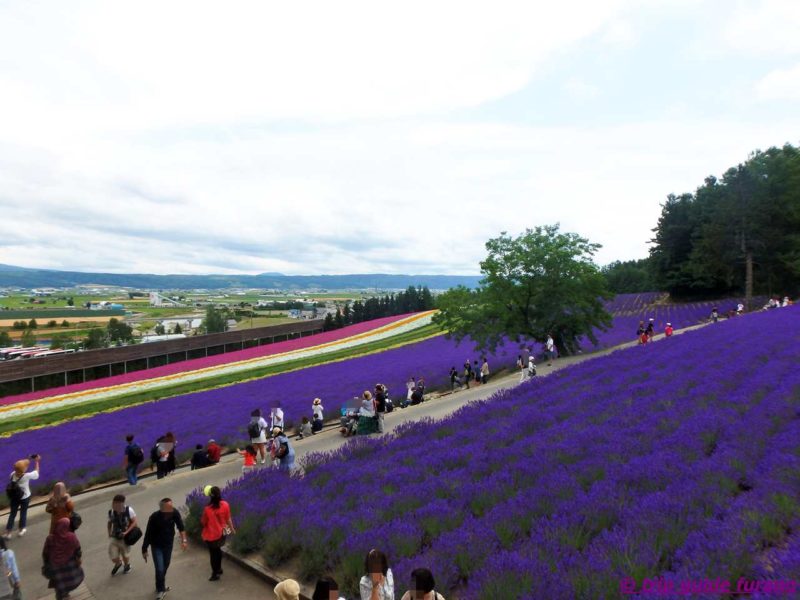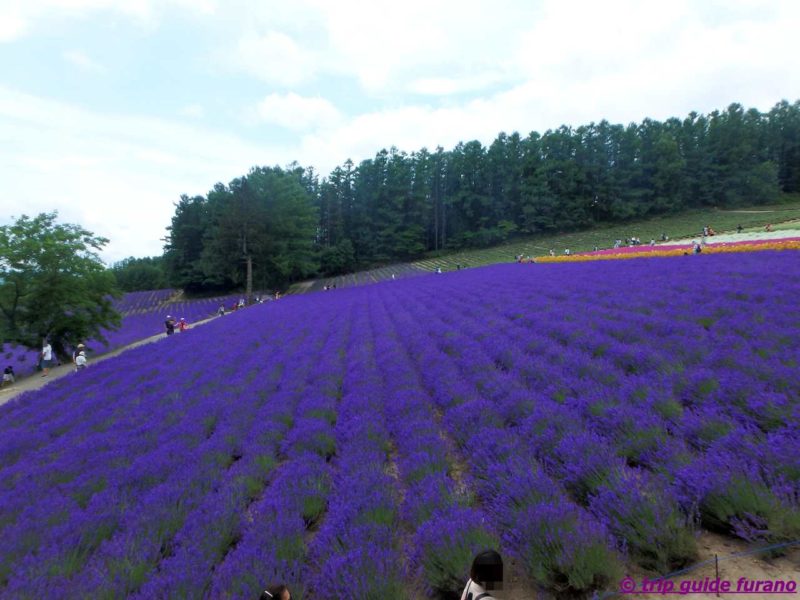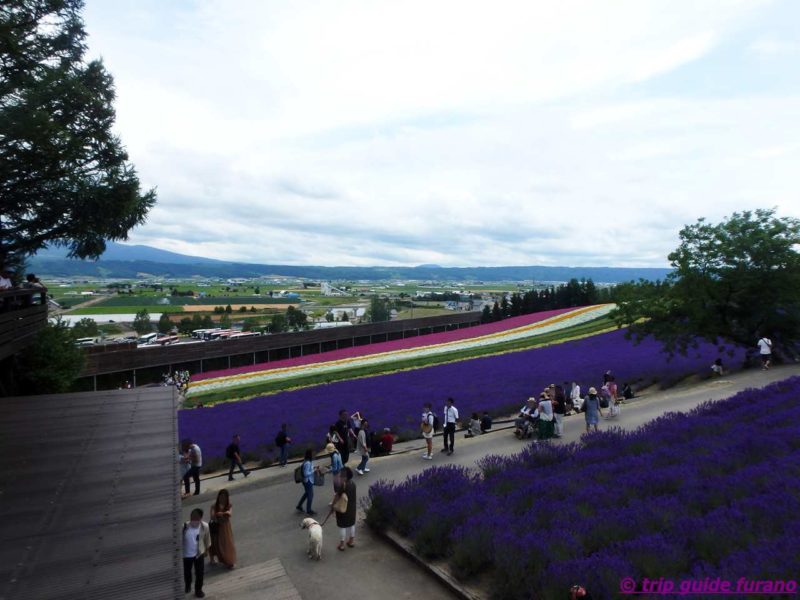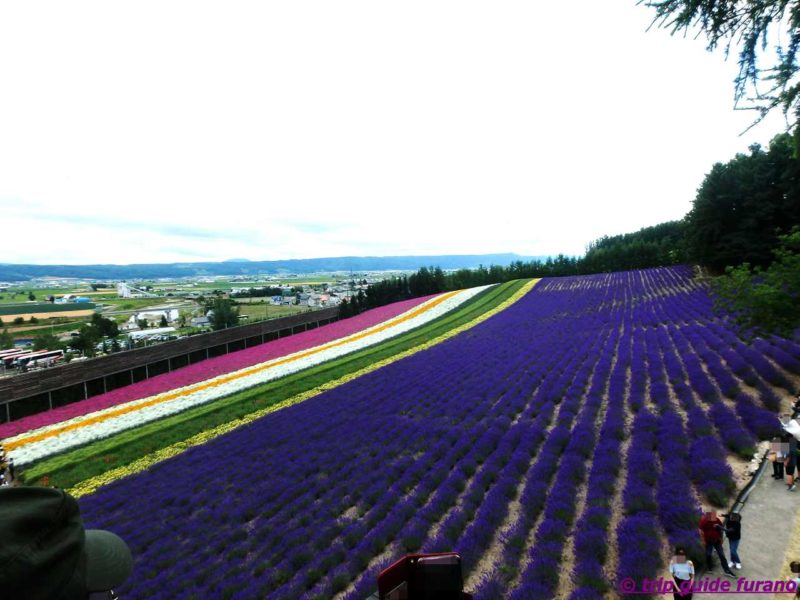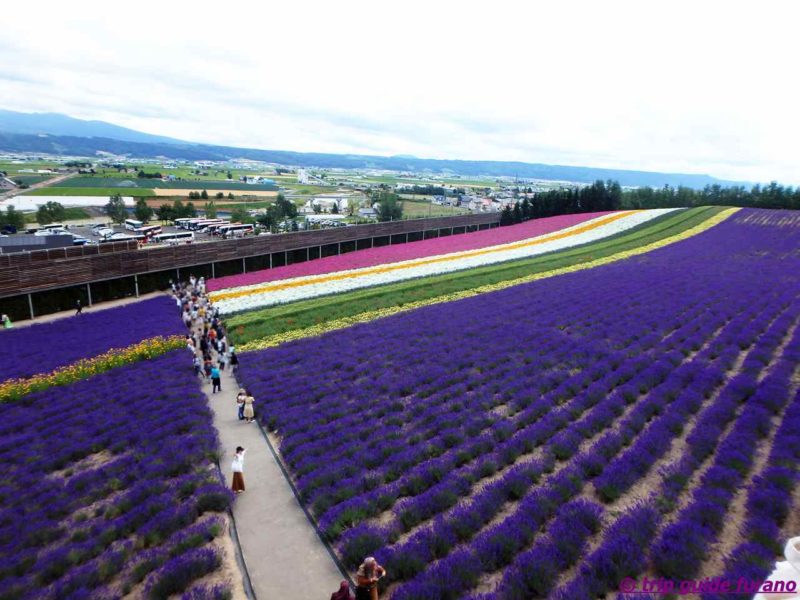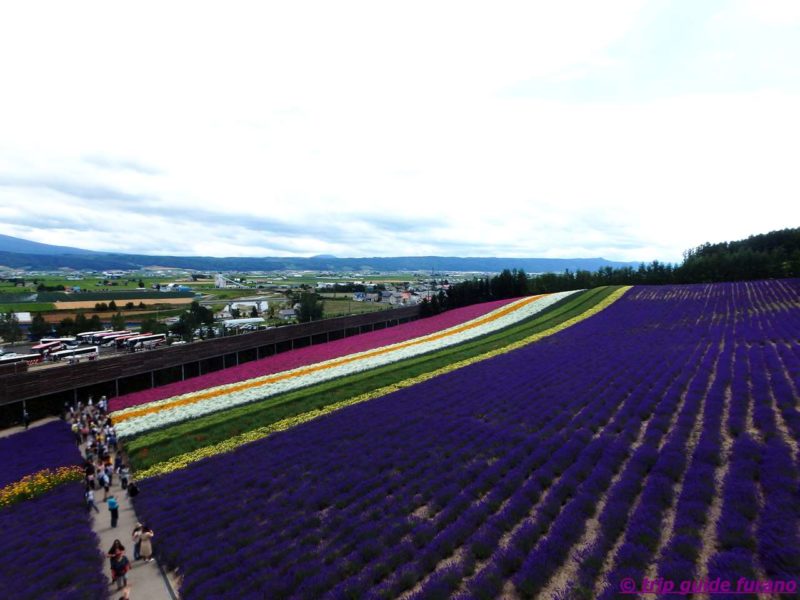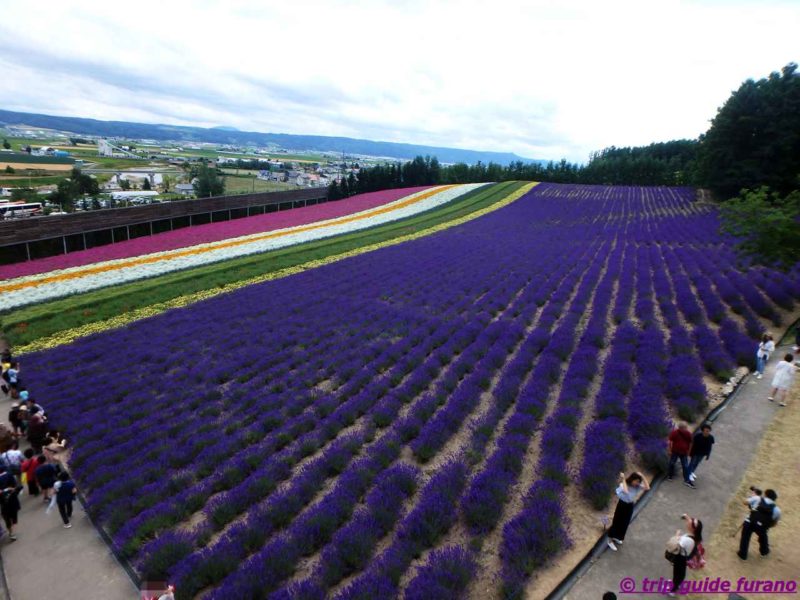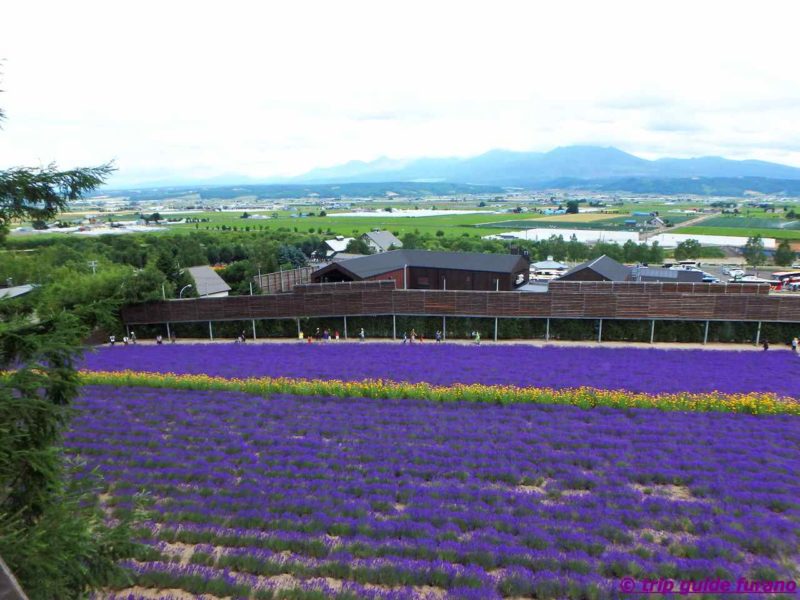 Once in a while, you can see the Norokko-Gou train from here!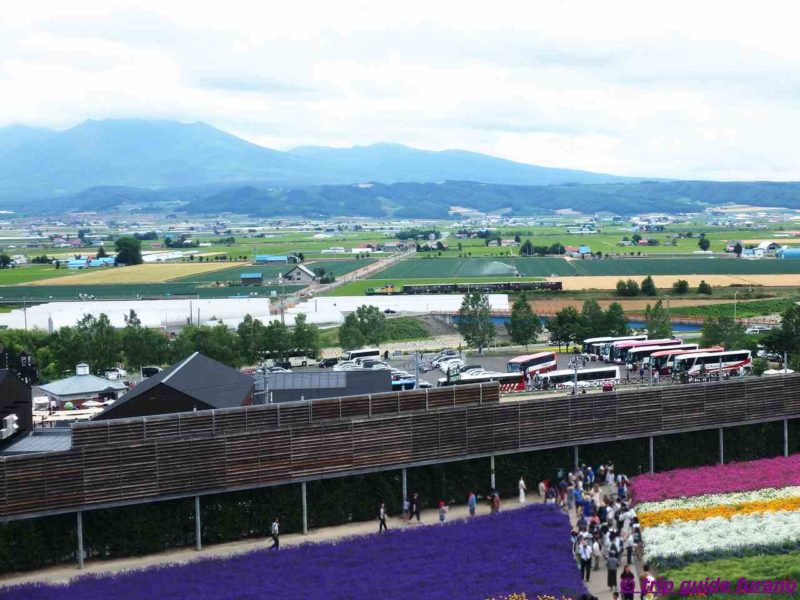 Can you see the Norokko-Gou train if I zoom in the picture?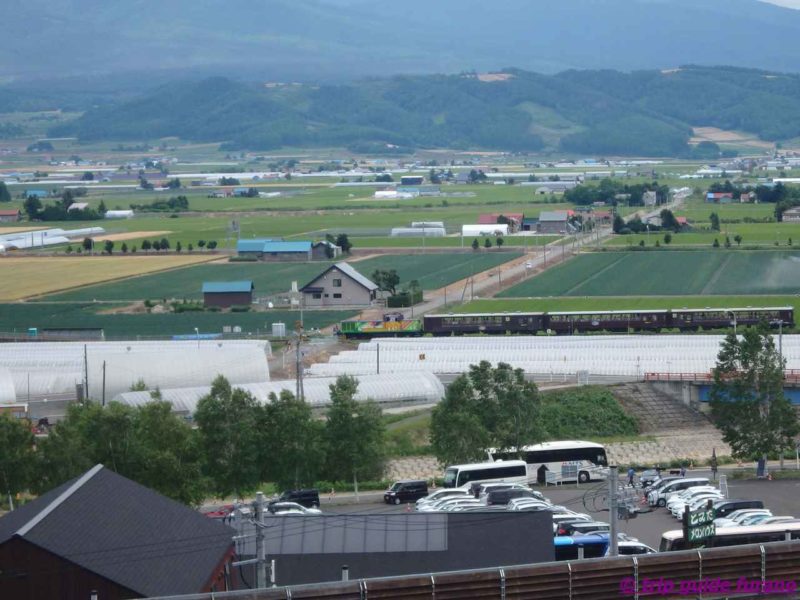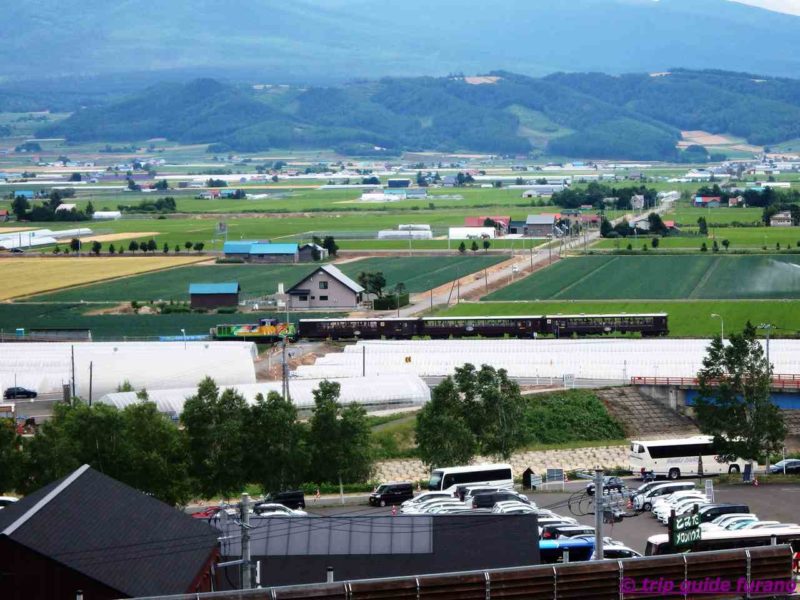 Coming down from the Observation Deck, you can really appreciate the lavender before you!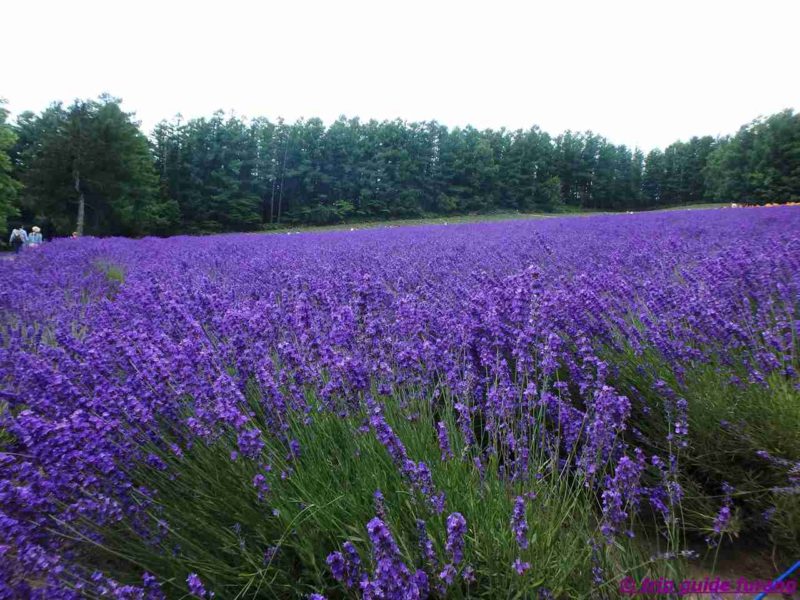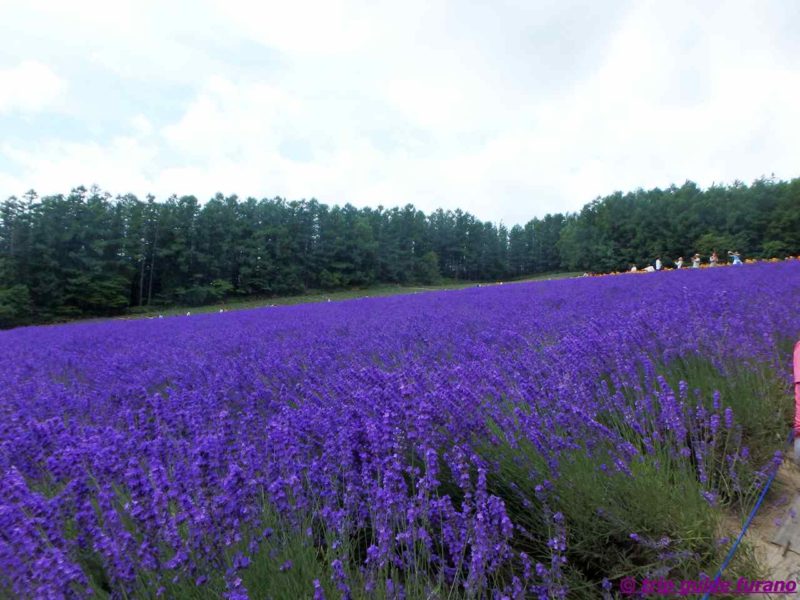 Of course, with so many people around, it`s very usual to have a few strangers in your pictures.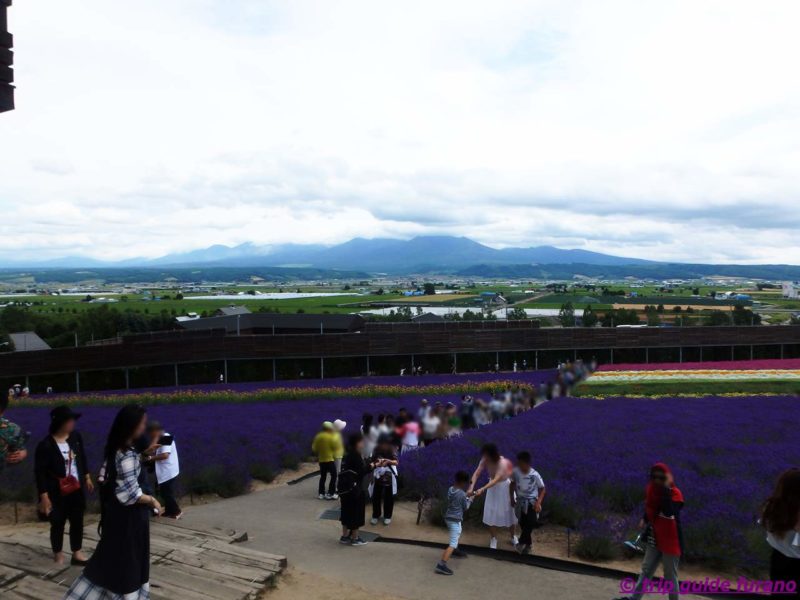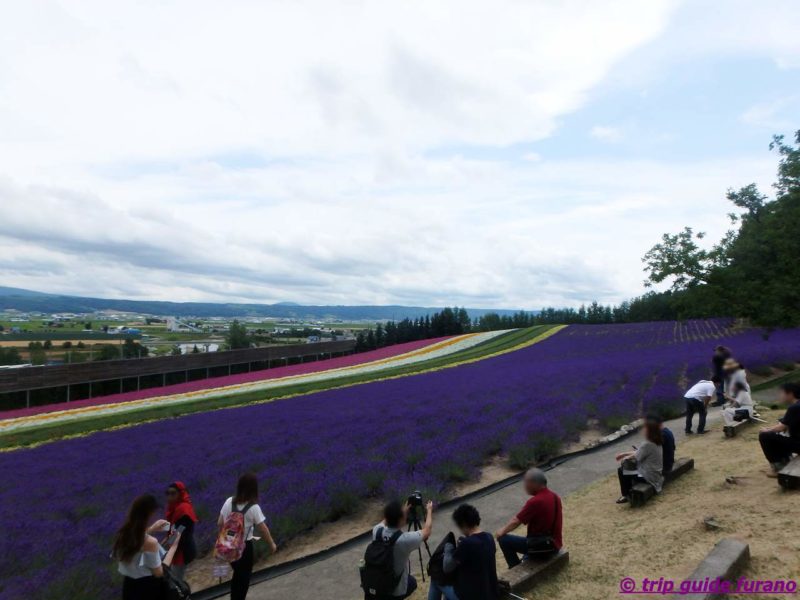 While looking over the fields, I couldn`t help but think that out of all the people wandering the fields today, I`m probably the one closest to home.
After enjoying the fields of flowers, I went to go see what lavender goods are offered at the numerous shops, which are at and next to Farm Tomita.
Lavender Ramune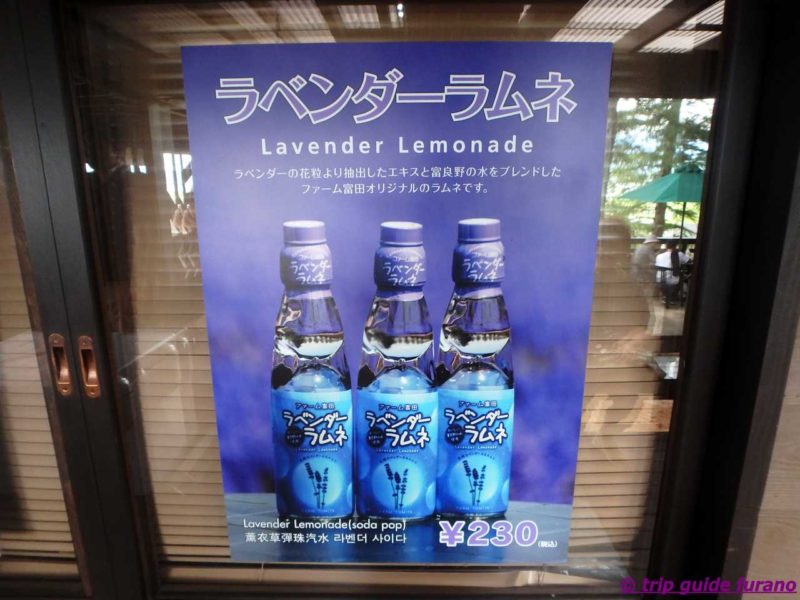 Lavender Soft-Serve Ice Cream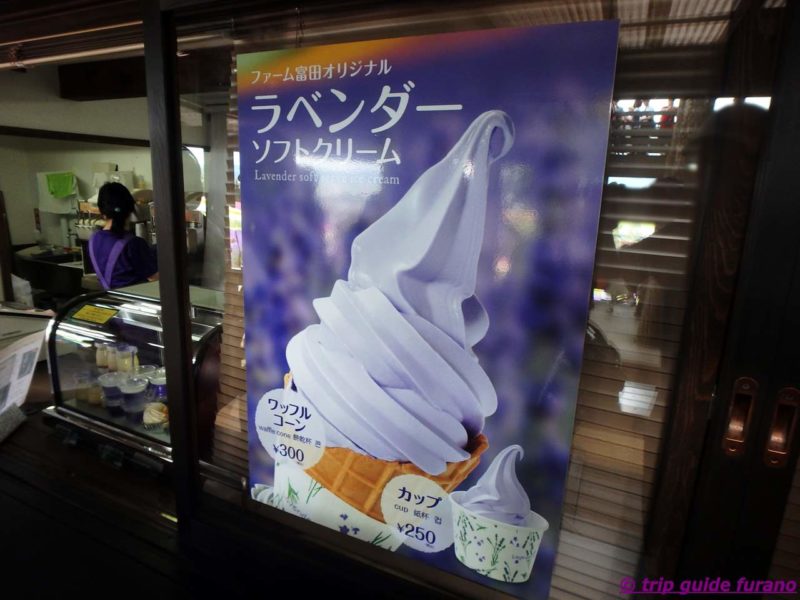 Lavender-flavored Milk Popsicles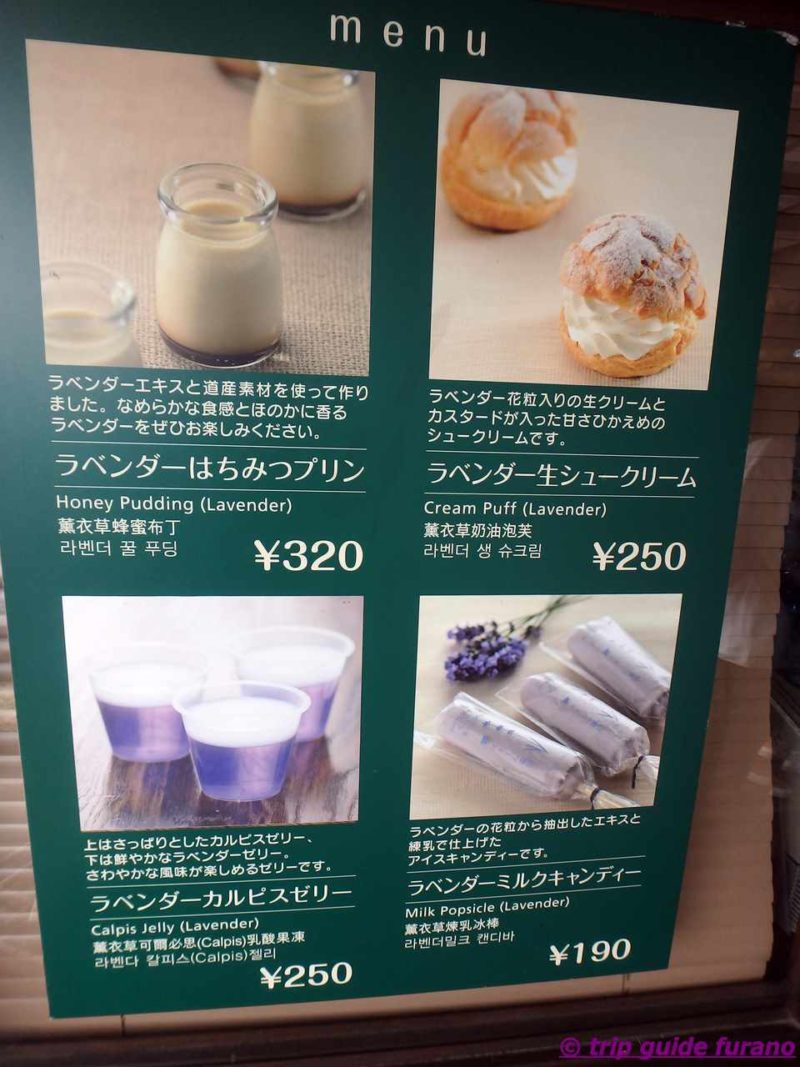 Lavender Honey Pudding, Lavender Cream Puffs, and Lavender Calpis Jelly Cups, too! They`re all pretty tasty, so please try them out yourself!
Restaurants Near Farm Tomita
You can of course have lunch at Farm Tomita, but there are also a few other great restaurants nearby.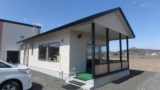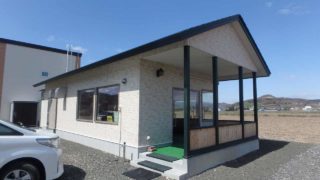 If you are looking for Miso Ramen in Furano, Jyuasa Ramen Shop is the place for you!
Hi, this is Furano Guide! Let me show you about Jyuasa Ramen Shop, a very popular local ramen shop in the Furano Area! The miso ramen here is well-known by the locals for a very good reason!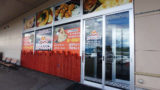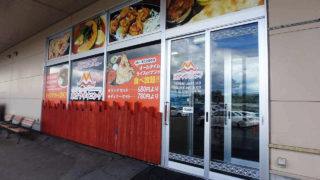 Genuine Nepalese curry in Nakafurano with endless nan bread refills!
Hi, It`s Furano Guide! If you are looking for Nepalese food in the Furano-Biei area, I would definitely recommend you stop by Pochara Dining! Great curry combined with free nan bread refills makes this place very popular with the locals. Check out more of my experience there on my blog, here!
These places are rrrrreally good! I sincerely suggest you try them out!
Farm Tomita in Other Seasons
Sometimes I like to go to Farm Tomita in other seasons!
Farm Tomita in June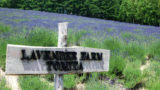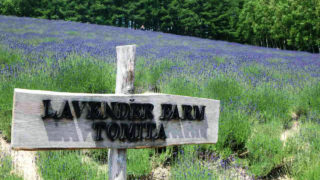 What is the Furano - Biei area like in June?
Hi, it`s Furano Guide! Is the lavender blooming yet? Are the other flower fields in full bloom? What is the condition of the fields at Farm Tomita? Is the Blue Pond really blue? Read through my June Update on the popular destinations in the Furano - Biei area!
Farm Tomita in Fall (September & October)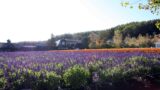 まだまだ楽しめる【9月10月秋の富良野観光】ファーム富田
秋のファーム富田は花・ラベンダー・紅葉・山の頂には雪など様々な表情が楽しめます。夏のラベンダーシーズンはたくさんの人で混雑していますが、秋のファーム富田は人が少なくゆっくりのんびり散策できます。
Summary of Farm Tomita
There are a lot of people at Farm Tomita in July. I really suggest you leave extra time for navigating in and out of the parking lots, as they are also quite full and busy. Also, as a majority of the walking paths in and around the farm are dirt or gravel and there is also sometimes quite a hill to climb, I would suggest shoes that are easy to walk in.
I would also suggest you check this out and take it with you:
リンク