Furano's famous and popular Hot Pot restaurant, SENNARI
Hi! It's me Trip Guide!
Today, I am here at SENNARI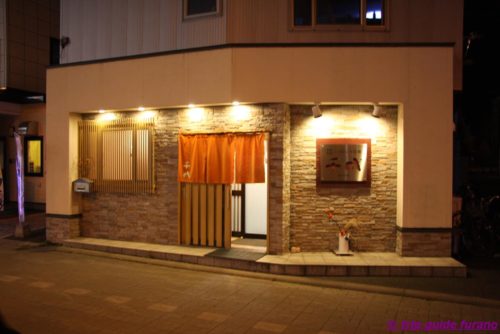 SENNARI is Furano's famous Shabu-shabu hot pot restaurant. Everyone in town knows this place.
Here we go.
Although the restaurant has 2 floors for seating, it's always full.
Let's check the menu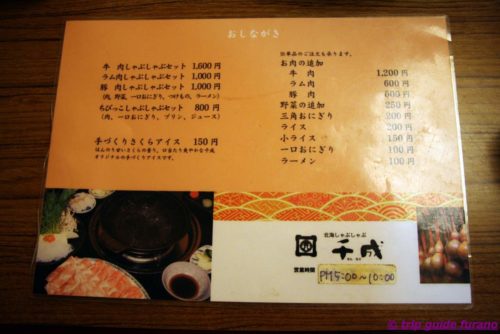 Beef Shabu Shabu Set:  1,600yen
Lamb Shabu Shabu Set:  1,000yen
Pork Shabu Shabu Set:  1,000yen
The Shabu Shabu Set includes your choice of meat, vegetables, rice balls, pickles, and ramen noodles.
Wow, what a bargain!!
Good news for you! There is an English menu.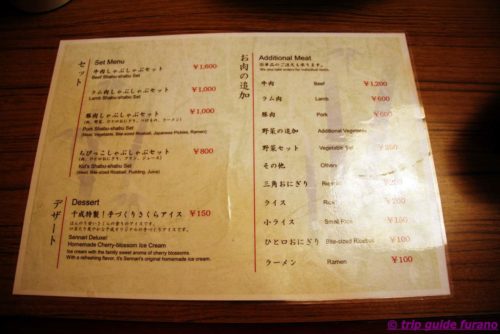 Chinese too!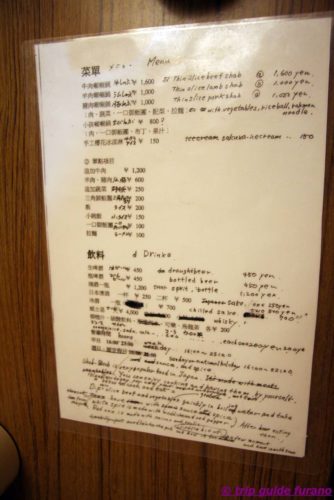 Drink menu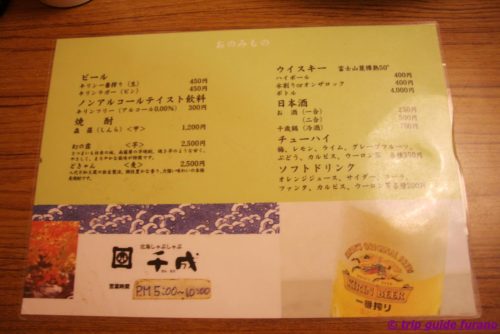 How to eat shabu-shabu
There are instructions of how to eat shabu shabu, but they are only in Japanese…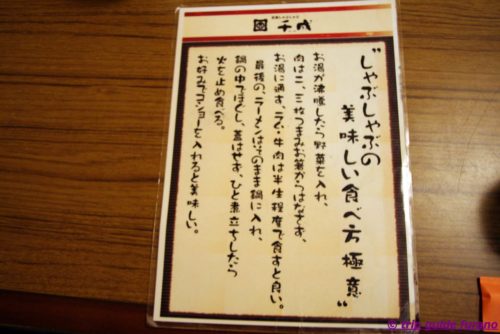 A basic translation is if you order lamb and/or beef, the best way to eat is just half-cooked!! I concur!
So, I ordered Lamb Set and Pork Set.
Let's get ready to eat while waiting for the ingredients to arrive, and for the meat to finish cooking.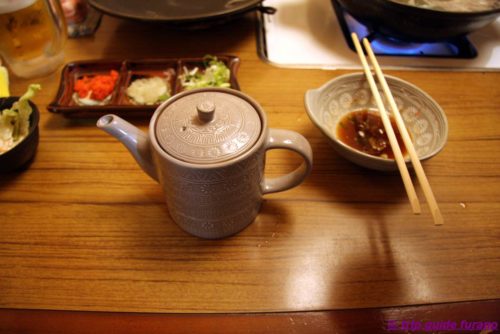 There is sauce in this tea-pot like jar.
Serve it into the little bowl.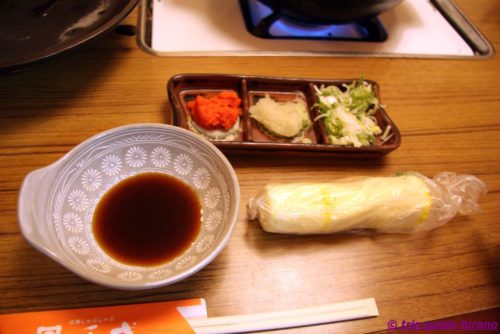 And mix with herbs and spices.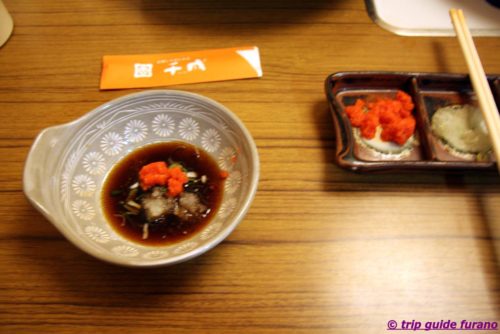 The red-colored stuff is grated raddish and chili peppers.
The white-colored stuff is grated onions with garlic.
Finally, the green-colored stuff is chopped spring onions.
Both sauce and herbs are unlimited, so if you run out, please ask the staff for more.
The vegetables arrived!!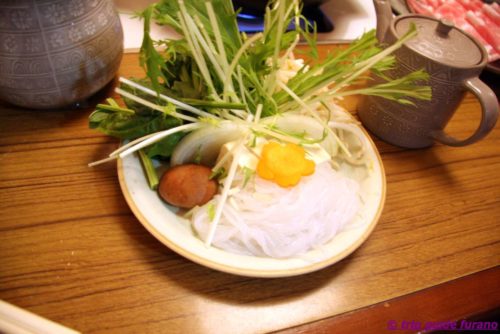 Mizuna (Japanese mustard greens), Mushrooms, Spinach, Carrots, Tofu, Bean sprouts, Shirataki noodles, Onions.
They gave us a lot!!
At first, place the vegetables in the boiling soup broth.
Then, add the meat!!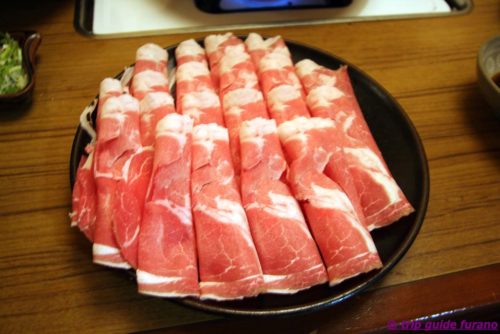 Lamb (1 portion)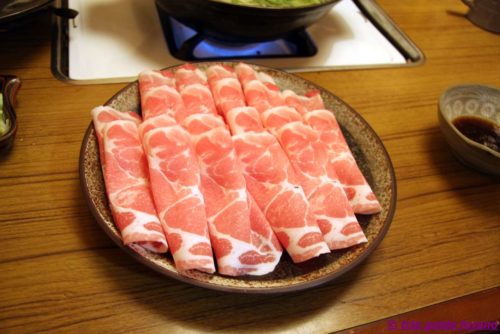 Pork (1 portion)

You can also order meat and vegetables separately.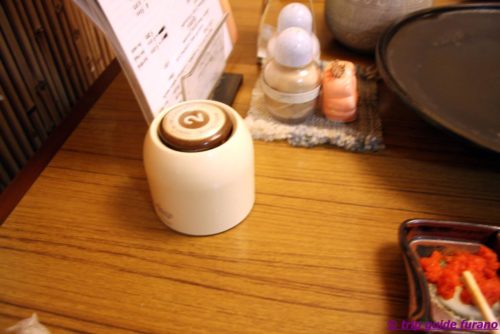 Press this button to ring for the server.
Don't forget to remove scum from the stop of the broth to keep the soup clear.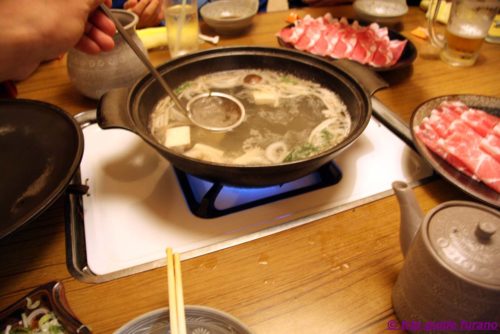 Take a netted spoon to remove scum and put it into the deep pot which is also on the table.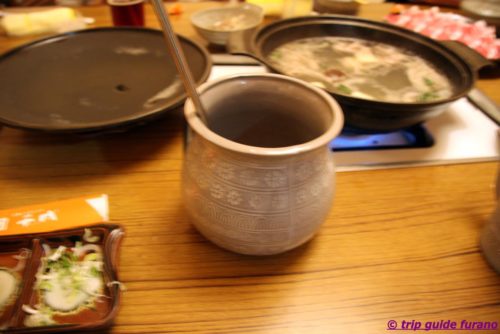 After a while, ramen noodle, riceballs, and pickles arrived.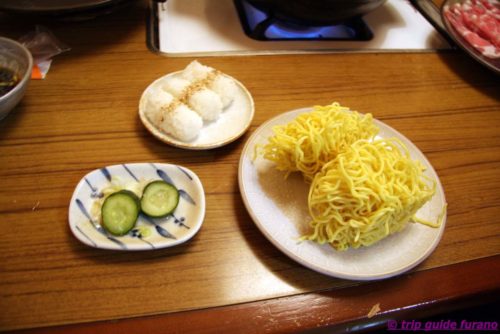 In the picture, rice balls and pickles are 1 portion, while the ramen noodle is for 3 people.
How to eat ramen.
「Put in directly to the hotpot and gently stir it in the soup. Don`t put the lid on the pot, and it's ready to eat when the soup begins to boil again. Serve with pepper is recommended. 」
Try it!!
For dessert, we ordered Sakura ice cream.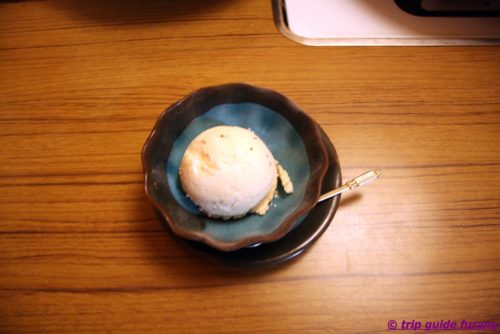 Very reasonable, very tasty, and so satisfying!!
Access: 100m from JR Furano Station
TEL: 0167-22-2376
Address: 1-19 Asahimachi, Furano, Hokkaido
Open: Weekday 5pm-10pm
                 Weekend and Holidays 4pm-10pm
It is recommended to make a reservation, as it is a very popular place.
This page was last updated September 2018.