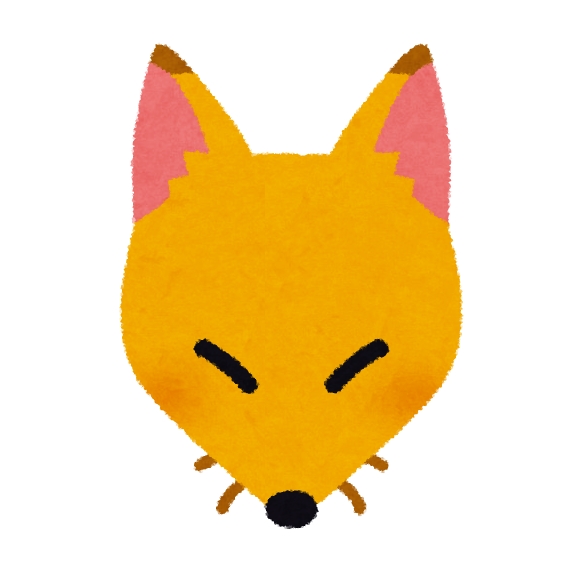 Furano Guide
Today, let me introduce you to more lovely shops in the Furano - Biei Area
If you come to Furano, you must definitely stop by this Izakaya Pub!
This time, let`s go check out Izakaya Dining LANTANA, a well-known Izakaya (Japanese pub) in Furano!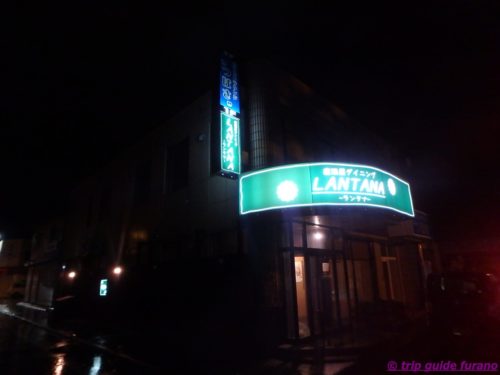 Yeah, if you come to the Furano area for sight-seeing, you`ll definitely want to go to LANTANA!
Before, there was a restaurant here by the name of "Sakanaya" however owners changed hands and so the pub changed its name to LANTANA.
Let`s look over LANTANA`s Menu
Food Menu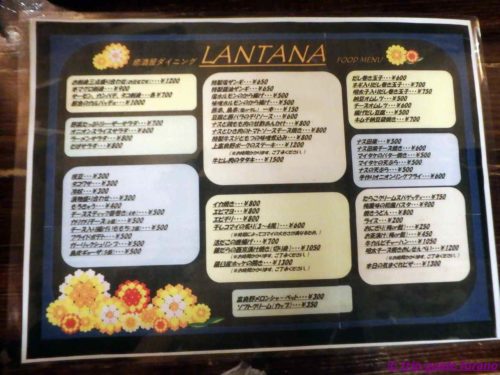 Drinks Menu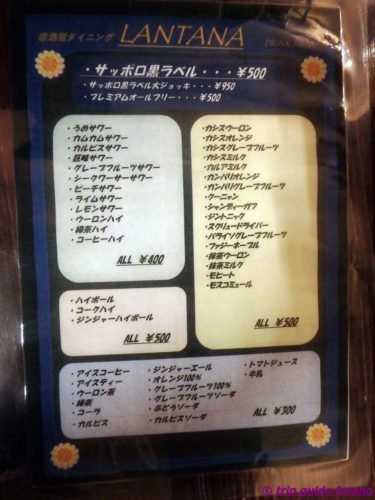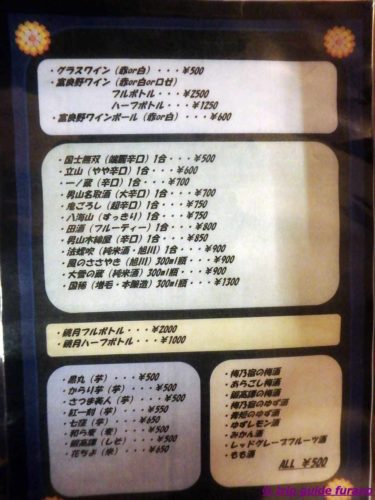 Popular Items Menu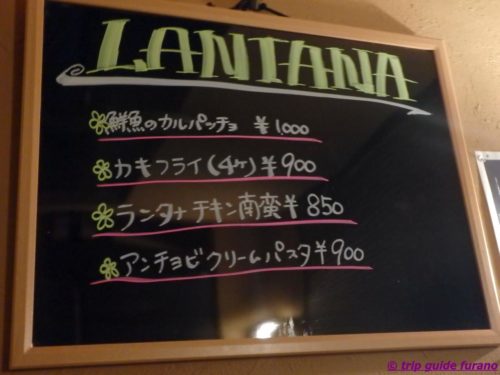 All-You-Can-Drink Menu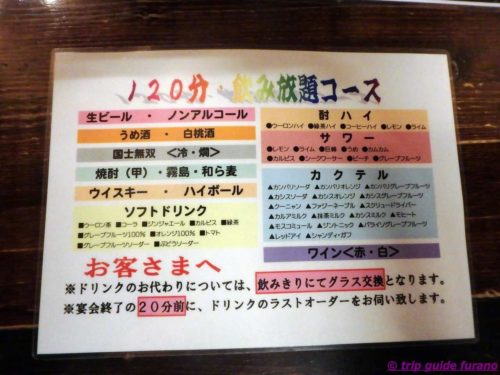 On top of the All-You-Can-Drink Course (no-mee-ho-da-ee), there are so many choices from the food menu, it might be difficult to choose what to order!
Thankfully, there the "Popular Items Menu" to help you decide!
Time to Order!
We chose to start with a round of beers, a salad, fried chicken (kara-a-geh), and sashimi among other things. It took around 10 minutes for the food to come, but in the meantime we enjoyed our beers!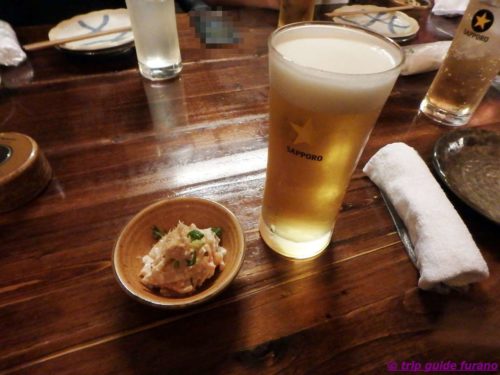 The appetizer which came with the beer was some sort of root salad.
Then our ordered items came in one after another!!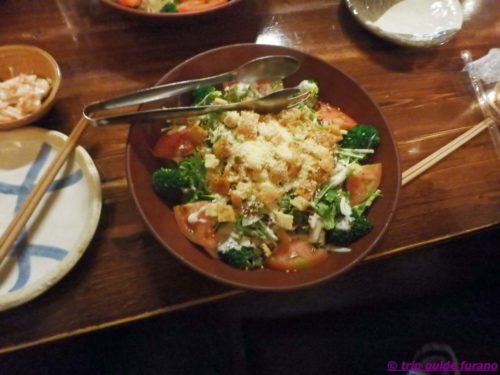 Caesar Salad, with lots of vegetables   700JPY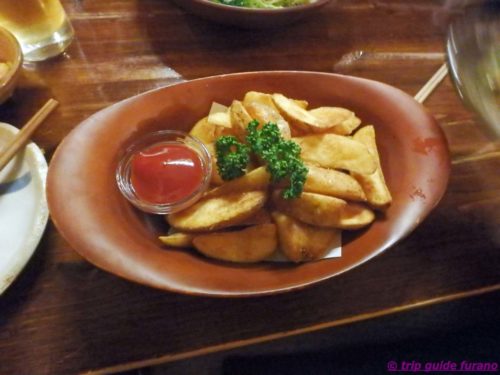 French Fries / Fried Potato   500JPY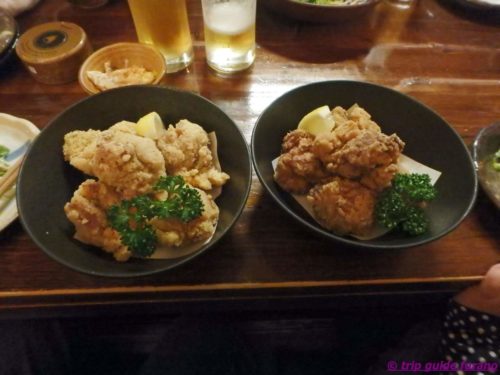 Deluxe Salted Fried Chicken (Toku-sei Shi-oh Zan-gi)  650JPN
Deluxe Soy Sauce-Flavored Fried Chicken (Toku-sei Sho-yu Zan-gi)  650JPY
Both types of fried chicken were delicious, although I preferred the soy sauce-flavored type, personally.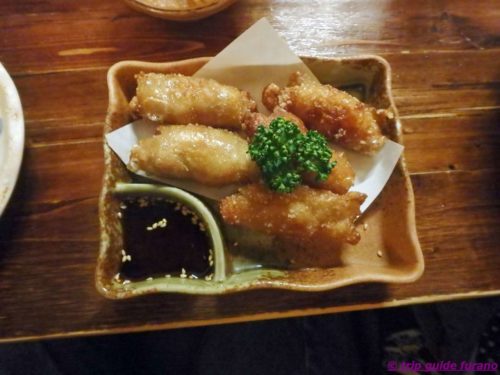 Chicken Skin Dumplings (Tori-kawa Gyo-za)  500JPY
This was very good!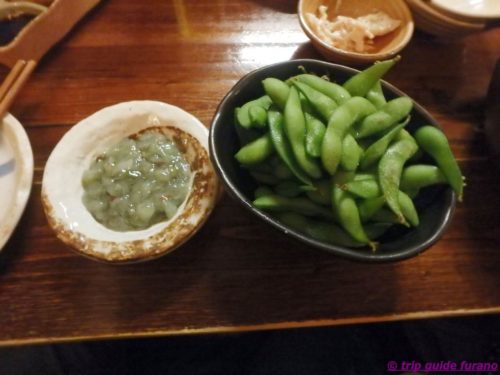 Octopus with Wasabi (Taco-wasa) and Edamame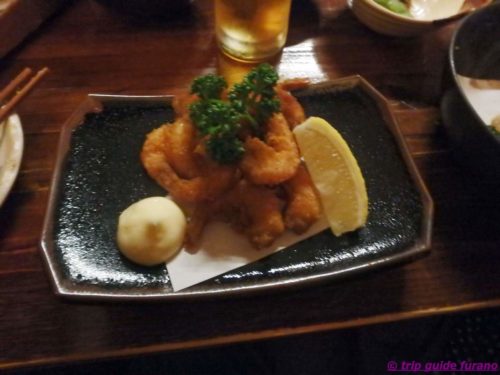 Garlic Shrimp  500JPY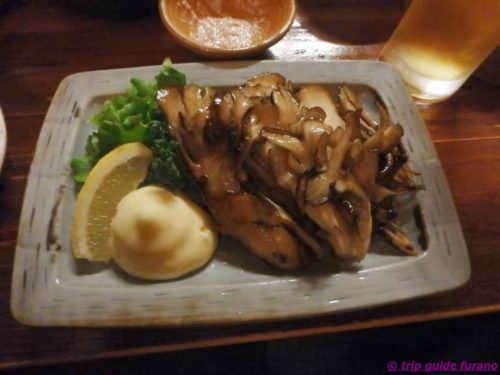 Buttered and Stir-fried Mushroom  (My-ta-ke butter ya-ki) 500JPY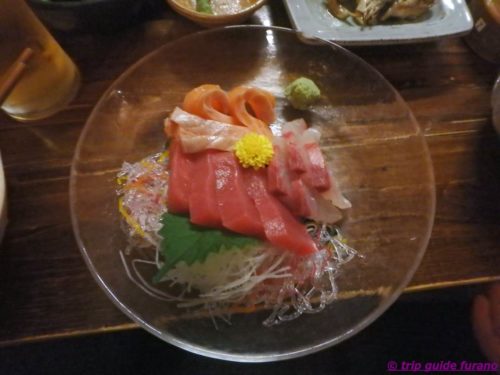 Sashimi Assortment  (O-sa-she-me San-ten Mo-ri-ah-wah-say)  1,200JPY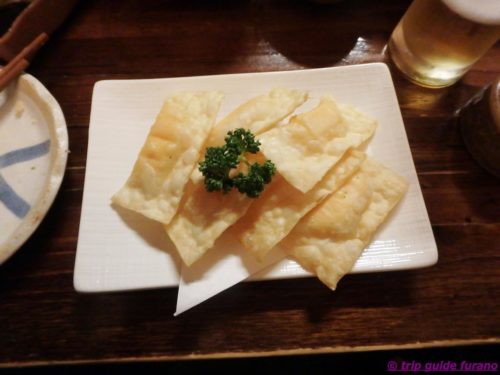 Grilled Cheese Crackers (Ka-ree Ka-ree Cheese)  500JPY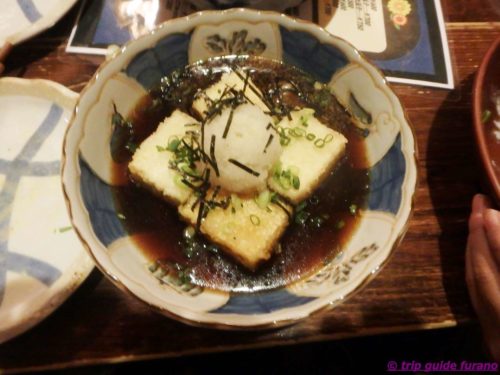 Lightly Deep-Fried Tofu  (A-geh-da-shee Tofu) 500JPY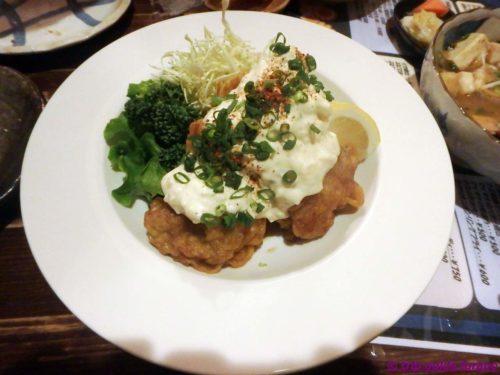 LANTANA`s Fried Chicken with Vinegar and Tartar Sauce (Lantana Chicken Nan-ban)  850JPY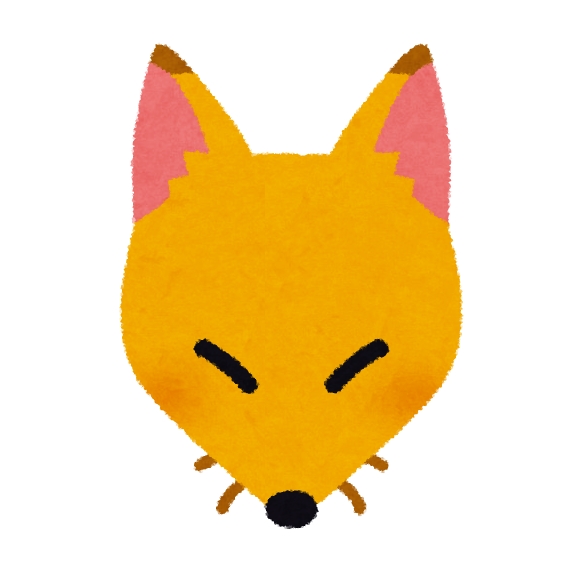 Furano Guide
What is with all the Segawa Ayaka Posters??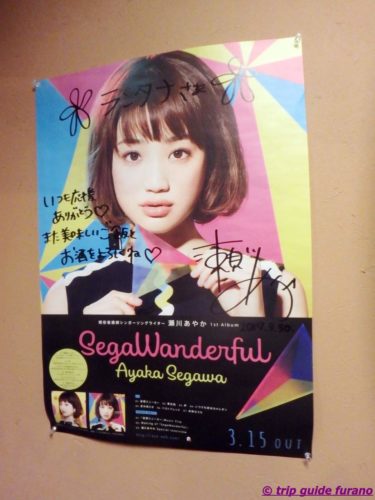 You may notice many posters with a certain singer on them. Her name is Segawa Ayaka, and she is a popular singer and songwriter from Furano! She has released several albums, and has been featured in a number of TV commercials on a national (if not also international) scale.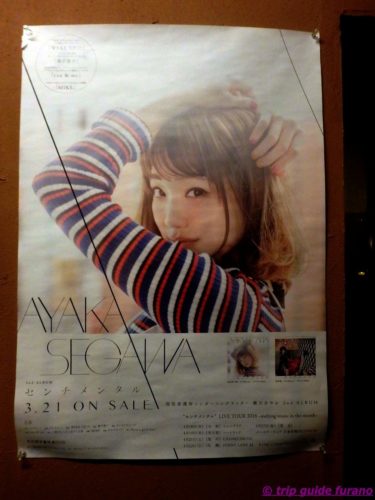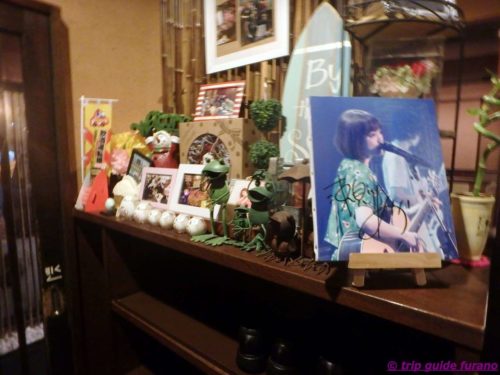 Segawa Ayaka`s Official Website
Ayaka-san also happens to be the younger sister of LANTANA`s owner, so there are always more signed posters being put up on the walls, and her newest album is constantly played overhead in the pub.
You can also order Ayaka`s CDs through LANTANA (Free Delivery)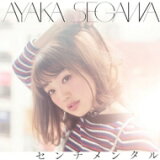 【送料無料】 瀬川あやか / センチメンタル 【初回限定盤】 【CD】

Summary of LANTANA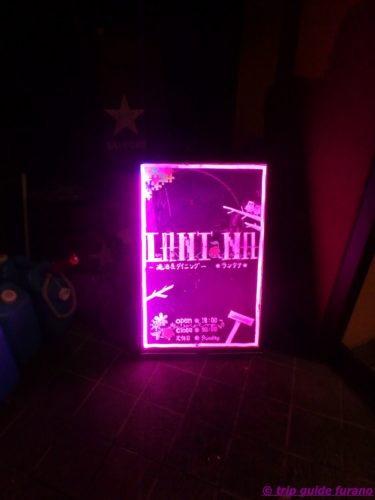 When it comes to the food and drink, whatever you choose is delicious!
Each plate has plenty of food, and at a pretty great value!
If you`re looking for a pub to go to in Furano, why not try out LANTANA?
ランタナ
ジャンル:居酒屋
アクセス:連絡バス(旭川空港-富良野)富良野駅 徒歩4分
住所:〒076-0025 北海道富良野市日の出町8-15 富良野興信ビル1F(地図)
周辺のお店:
ぐるなび 富良野・美瑛×居酒屋
情報掲載日:2019年2月18日
LANTANA
Genre:  Izakaya / Pub
Access:  4-minute walk from JR Furano Station
Webpage Last Updated February 18, 2019